Nation is in the initial stages of "higher education-massification" according to recent reports.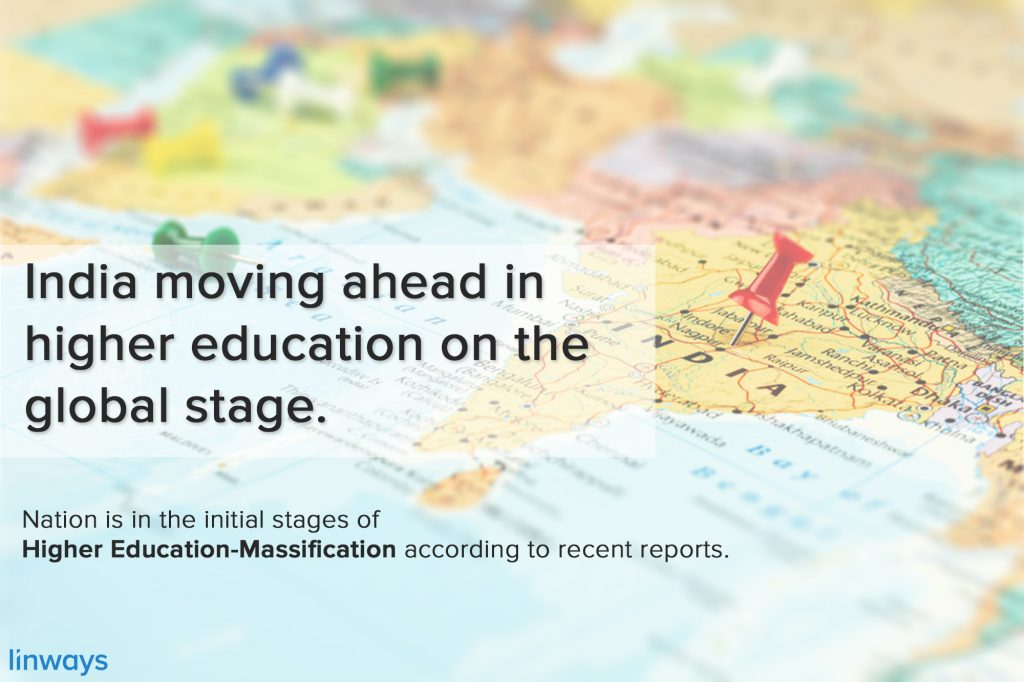 India is closer than ever in reaching a Gross Enrolment Ratio (GER) of 30% in higher education. GER has increased during the last 5 years, from 24.3 in 2014-15 to 26.3 in 2018-19. The Ministry of Human Resource Development has set a target of achieving 32% GER by 2022. "Going by the current growth rates, this target is likely to be met in the next few years," said the report, describing India as in the initial stages of 'higher education massification'.

To make sense of what this means, higher education system with GER less than 15% is considered elite, where access to higher education is limited and is viewed as a privilege. GER between 15% and 50% is regarded as a mass system, where higher education is seen as a right for those with certain formal qualifications. Higher education systems are described as universal when the GER is above 50%, the report notes.

GER is the proportion of 16- to 23-year-olds enrolled in higher education. However, India will see a bottleneck in achieving massification without increased funding for students' access, said the just-released report Reviving Higher Education in India.

"In addition, a low rate of postgraduate enrolment with many going abroad for postgraduate studies points to a serious need to improve both the quality and capacity of postgraduate programmes in India."

While we are on our way to massification of higher education, important questions on the quality of institutions and the employment of graduates needs to be asked.

Where are we now
Our current GER stands at 26.3% on a steady growth curve. The Indian higher education system is one of the largest in the world. Our 35.7 million students currently enrolled across 51,649 colleges and universities, is second only to China's 41.8 million. India has seen a massive expansion in the higher education sector – an almost four-fold increase in enrolments and institutions since 2001.

Although lower than the global average of 36.7% GER, India stands tall before other lower middle-income countries with an average GER of 23.5%. For upper middle-income countries such as China, which has already undergone higher education massification, GER is closer to 50%.

Student finances and funding
Between 1996 and 2001, India and China had similar GERs. However, in the next five years, China doubled its enrolment rate from 9.76% to 20%, while India's increased merely 2%, said the report, attributing China's dramatic GER rise to increased higher education funding in the last two decades.

An overview of the tuition fees to prepare for courses in engineering and technical education suggests that households are willing to pay large amounts to access these degrees. Though the trends are slowly shifting in responses to a global outlook, households still continue to be the primary fund provider of higher education studies. So as long as gains from these domains remain high, there might still exist a traction to pursue such programs. However between loans and scholarships, less than 10% of enrolled students have access to financial support.

Employability of our students
Recent estimates suggest that the rate of return for higher education in India is between 12% and 15%. India Skills Report-2018 finds that employability across disciplines is just 45%, with engineering and pharmacy graduates the most employable, while those from general three-year programmes falls short of the expected standards. However during the last five years, there has been a significant increase in employability of more than 10%.

There are employability surveys which measure skills required in a workplace. In addition to the lack of technical skills, these tests have found poor communication and language skills among recent graduates. To address the skills gap in fresh hires, many companies are forced to invest in lengthy training programmes. This is a huge let down for industry participation in education, which is crucial if we were to develop programs to meet the global standards.

Postgraduate enrolments are still feeble
Postgraduate enrolments have more than doubled since 2009-10. Nonetheless, undergraduate enrolments account for close to 80% of all enrolments in India. With around four million students enrolled, postgraduate programmes are a distant second at 11%. General programmes and those with high chances of employment are the most popular.

Research degrees account for a very small proportion of enrolments.

Although the number of PhD enrolments has doubled in the last five years, its share in total enrolment has actually fallen. With the exception of a few elite institutions, most universities in India have little facilities to offer for research.

Only 34.9% of all universities run postgraduate programmes and just 2.5% run PhD programmes. This is to be read along with the fact that Indian students are increasingly pursuing postgraduate studies abroad.

In comparison, India has about 18% the number of researchers China has, 5% that of the United States and 3% that of South Korea. India has 216.2 researchers per one million inhabitants against 1,200 in China, 4,300 in the US and 7,100 in South Korea, according to the reports.

Having a high density of researchers has a direct correlation with the quality of education in a country and how it benefits industries and thus the economy.

Quality assurance and regulatory practises.
With the newfound acceptance of accreditation agencies like the National Board of Accreditation (NBA), National Institutional Ranking Framework (NIRF), and National Assessment & Accreditation Council (NAAC), the higher education in India is being heavily focused on quality. The NAAC accreditation is mandatory now for AICTE approval, and professional programs are to be accredited with NBA, according to the regulatory agencies like UGC and AICTE.

This is a huge leap forward to pushing our higher education sector to the global stage. Converting our education standards to match the international paradigms not only improve the outcomes of our education, but also invites better opportunities for our students.

According to recent studies, a significant portion of faculty's time is devoted exclusively to institution-bound administrative activities instead of research and teaching due to high workloads. This poses a huge risk in reaching the quality milestones that we aim for.

We need to invest in faculty research, as well as education technology that helps teachers invest in improving teaching-learning and research.

In that regard, Linways Academic Management System is a technology platform that helps simplify and automate daily academic activities. With such an intuitive platform running behind to support academics, teachers can spend their time and energy to truly focus on quality improvement and research. Linways also hosts the whole range of academic management functions including accreditation management, administration, student & faculty management, and analytics.

Check out our other blogs on education, technology, and learning theories here. To get more insightful info in your inbox, please subscribe to our newsletter. Linways exist to improve the way the world is learning. So every suggestion and opinion from you counts. Please let us know what's your take on this matter in the comments.
---
Also published on Medium.