– Part II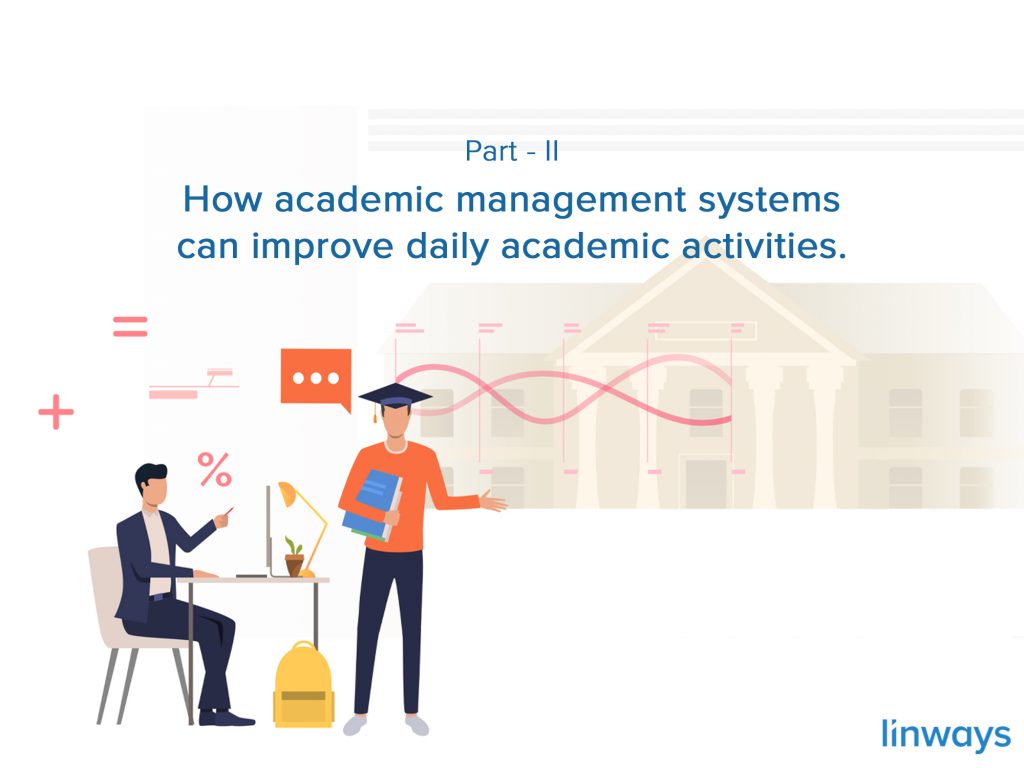 So in our previous blog, we saw how academic management systems can improve some daily classroom aspects like quality assurance, attendance marking, and student-teacher interactions. Moving on from that, we will look at the next phase of classroom management using Academic Management Systems.

Here's an overview of what we are covering in this blog:
Assessments,

Analytics,

Batch & student management,

Feedback,

Technology integration.
Assessments
We often think of assessments as the end of academic journey. But in the broader picture, assessments are much more. Assessments doesn't just include exams or assignments. It also includes methods and benchmarks to measure student performance in classrooms, their progress, their achievements, qualitative analysis of the subject being taught, and so on.

Assessments can be broadly classified into specific indicators that gives us the extent to which the student has achieved the desired outcomes.

So in terms of an academic management system, assessments can be easily simplified with the help of intelligent workflows and creative technology integrations. As in the case of Linways, teachers can define exams through the system, assign faculty for various roles, create and share question papers with their colleagues, map the assessments to various outcomes, etc.

As the definition goes, assessments doesn't have to be just exams or assignments. Teachers can assess a student's level of achieving the outcomes using a wide range of indicators that are readily available through the system. As we have stated before, since the data is available in the system, all the teacher has to do is to fetch it in their desired format.

Analytics
Analytics is just another added advantage of having an academic management system in the institution. Apart from reducing the workload of faculty and simplifying the workflow, the management can gather deep insights into the performance of both the student and faculty through such a platform.

This helps them to always have an overview of the performance at all times, without having to go through painstaking and time consuming data gathering through the office files. Anything you need is right there at your fingertips just like you need it. This is also particularly helpful for creating custom reports, university auditing files, course diaries, self-assessments reports for accreditation etc.

Batch & student management
Engaging students is always a crucial element for an institution to creating a nurturing environment for excellence. Engaging the students mean improvement in student satisfaction, and digitising academics sure goes with today's mobile-first world.

With these in mind, any institution should invest in student engagement with technology platform. Besides having everything available and accessible, there are many features that could help your students to make the most out of their time on campus. Academics and administration are two different zones and there's a small distance between those two. Reducing that distance would mean less work, and more time free for better things to be achieved. Academic management systems essentially combines the best of both worlds.

In a highly functional AMS like Linways, students can view their attendance and how that reflects in their overall performance reports. This helps them to overcome the distance between the classroom and administrative aspects of the institutions. The next useful feature is alerts that notify them about deadlines, events, and other important dates. This helps to keep track of their schedules, and actively engage in academic life.they can view an academic calendar about matters. The teachers can also engage with their students by uploading course materials over the academic management platform. So the students can easily view them and download them to improve learning outside the classroom. This also contribute to an ICT-enabled campus and efficient teaching-learning.

If the faculty upload marks and grades, the students can view them over their login in Linways AMS. students can also upload their assignments and academic files through the system for assessment. This helps the faculty to access them anytime they want, and the students have the perks of having a digitised learning platform to support their learning. The teachers can also conduct online quizzes through Linways Academic Management System.

So as you can see, having an AMS like Linways helps a great deal to improve student engagement.

Feedback
Moving on, the next aspect that would greatly benefit with an AMS in place is the feedback. This is particularly important when it comes to accreditation like the NBA or the NAAC. gathering student feedback and faculty feedback helps the management to assess their strategies, and improvise on the go. Students can give their feedback on how a particular faculty teaches, how well informed they are about the subject, how effective is their teaching style, etc.

Likewise, the teachers can also provide their own feedback about students, which informs other faculty about his/her learning styles, behaviour, and performance. Through such an AMS platform to collect feedback, the management also has a window to collect grievances, which is an important aspect of student satisfaction and institutional quality.

Technology integration
It almost goes without saying that an AMS can be a perfect tool to implement blended learning. It is a very popular instructional model where the teacher provides the learning materials beforehand, in video or document format, and spends the classroom hours to discuss and interact with the students. This way, the student-teacher relationship greatly improves, and quality of classroom instruction goes up.

ICT enabled education is also becoming a standard across education. So with a highly user-friendly and functional technology platform like Academic Management System in your institution, the institution can stay relevant through the current flow, and also attract students of the 21st century.

We wrote this blog to help you get a better grasp on how Academic Management Systems can improve daily academic activities in an academic institution. We have mostly based this blog on Linways AMS because of it's broad functionality and efficiency that many teachers has vouched for, again and again, over time. We exist to improve the way we learn. We believe, having an AMS in your institution can help that cause. Just like learning theories, quality assurance, teaching-learning, and managing academic institution, we think this blog would also help you understand the benefits of a carefully developed management platform that reduces the workload of teachers, provide better insights for the management, and offer a better learning experience for the students.
Check out our other blogs on core teaching-learning, learning theories, etc. on https://blog.linways.com, and please subscribe to get latest updates modern trends on education in your inbox every week.
---
Also published on Medium.