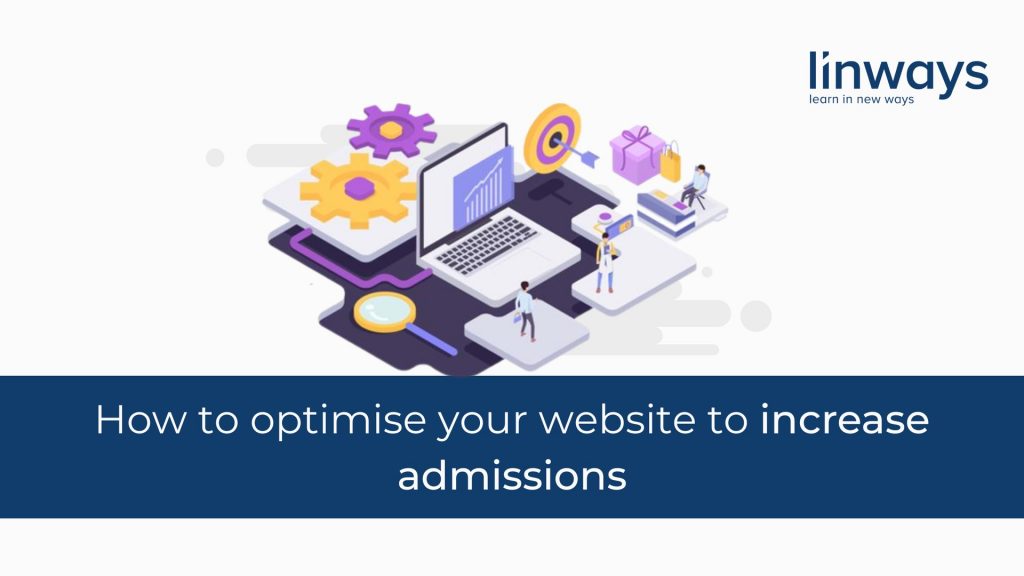 How to optimise your institution's website to increase college admissions
We have ample reasons to be sure about the necessity of a good website. But one of the biggest reasons you need a quality website is the impact it makes on the admissions.

Your website is the first point of contact for potential students as well as the parents. It is where the first impression of your college is created. Also, a website is the display of your culture, values and achievements. On top of that, a website helps you increase your institution's brand awareness among  the stakeholders. All this comes beneficial for you to increase your college admissions.
In this blog, we discuss a few steps to optimise your website to increase admissions :

5 steps to optimise your website to increase admissions :
Curate unique content and pages :

Google ranks websites on the basis of various reasons. This includes the number of pages and the time a visitor spends on your website. The higher these numbers, the more will be the chances for higher ranking. You need to create more pages in your site that will make the visitor stay longer.

However there is a catch. You cannot create pages to increase the numbers. It will definitely backfire on you. You should create pages with unique and informative content such as :

Courses you offer and their benefits
Faculties and their qualification
The campus and the interesting places nearby
Interesting local news
Extra curricular activities of students
Travel videos of students
Creative side of the students, etc.
  2. Keyword is the key :

You need to build content for your website focusing on what the students and parents want. You should spend a decent amount of time researching what the potential visitors search for on the internet. You should find relevant keywords that the visitors search for during admissions and curate content which highlights them. For example, you can add phrases like "college admissions" and "admissions open".

You can use tools like SEMRush, Moz, UberSuggest, or Ahrefs to get a comprehensive list of the keywords you need.


3. Don't ignore non text elements :

Non text elements of the website include title tags, headers, meta descriptions, and alt text of the images. A common mistake we all make is ignoring these elements and focusing only on content optimisation. These are major factors search engines consider when it comes to ranking. These non text elements must be well optimised. This will make your website and your institution visible to the searchers.
4. Optimise URLs :

The 'Uniform Resource Locator' or URL can be simply put as the address given to all unique resources on the internet. The URL of the page must be optmised with the right keyword and should explain exactly what the page contains. For example, if your page contains information about fees, your URL would be "www.institutionname.com/fees-payment".

5. Take advantage of competitors :

One of the best practices you can adopt is competitor analysis. You can analyse the competitor sites and follow their strategies as well as create your own inspired by them. This will help you to stay ahead of the competition.

There are plenty of reasons to optmise your website. But increasing admissions is the main reason. We will come up with more tips and strategies to increase admissions in our coming blogs. 

---
Also published on Medium.