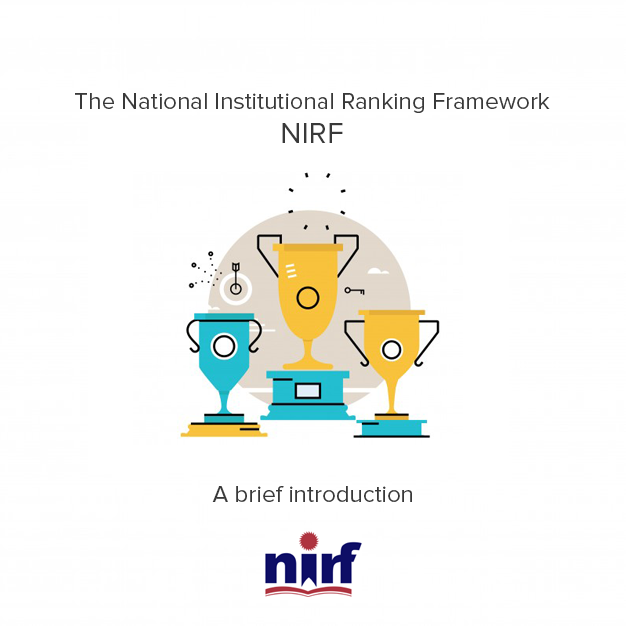 After the NBA, NAAC, AICTE, UGC etc. the Indian government has taken on yet another strive towards the betterment of the educational domain. When accreditation gives us an overview over countless variables in a 5-year term, there's still gap in between where institutions can slip their performance. Also, the whole process of accreditation is a troublesome affair filled with tedious assessments, constant feedback, big data processing, and a lot more. Whereas an yearly ranking framework covers those gaps and provides the stakeholders a narrower frame of reference to know if the institution has done better than the previous year.
The National Institutional Ranking Framework (NIRF) does just that. Accreditation gives an absolute grade, while ranking is relative to the other institutions similarly placed. This is a great way for the stakeholders to assess and choose the education they prefer. While this poses as a competitive front for better image in public, the ranking also encourages institutions to pursue more definitive procedures to keep on getting better. None other than our nation is to benefit from it.
Now let's look at the details.
The NIRF is an undertaking of the Ministry of Human Resource and Development (MHRD). It was launched on 29th Sep 2015.
Their framework boarders a methodology to rank institutions across the country based on certain merits and criteria. The methodology infers from a broad understanding arrived at, by a Core Committee set up by MHRD, to identify the parameters for ranking across various universities and institutions and their alignment towards those parameters.
The parameters include
Teaching, Learning and Resources,
Research and Professional Practices,
Graduation Outcomes,
Outreach and Inclusivity,
Perception.
Let's go over them once more.
We can now see what each of these parameters truly comprehend in terms of attainment.
Teaching, Learning & Resources
Student Strength including Doctoral Students
Faculty-student ratio with emphasis on permanent faculty (FSR)
Combined metric for Faculty with PhD (or equivalent) and Experience (FQE)
Total Budget and Its Utilisation: (CBTU)
Research and Professional Practice
Combined metric for Publications (PU)
Combined metric for Quality of Publications (QP)
IPR and Patents: Filed, Published, Granted and Licensed (IPR)
Footprint of Projects and Professional Practice And Executive Development Programs (FPPP):
Graduation Outcomes
Combined % for Placement, Higher Studies, and Entrepreneurship (GPHE)
Metric for University Examinations: GUE
Median Salary
Metric for Graduating Students Admitted Into Top Universities (GTOP)
Metric for Number of Ph.D. Students Graduated GPHD
Outreach and Inclusivity
Percent Students from other states/countries (Region Diversity RD)
Percentage of Women (WF) + (WS) + (WA)
Economically and Socially Challenged Students (ESCS)
Facilities for Physically Challenged Students (PCS)
Perception
Peer Perception: Employers and Research Investors (PREMP)
Peer Perception: Academics (PRACD)
Public Perception (PRPUB)
Competitiveness (PRCMP)
To look closely into each of these parameters can be pretty long. So we are keeping it for our next blog.
You could subscribe to us right now so that you don't miss out on the next one; or the one that follows..