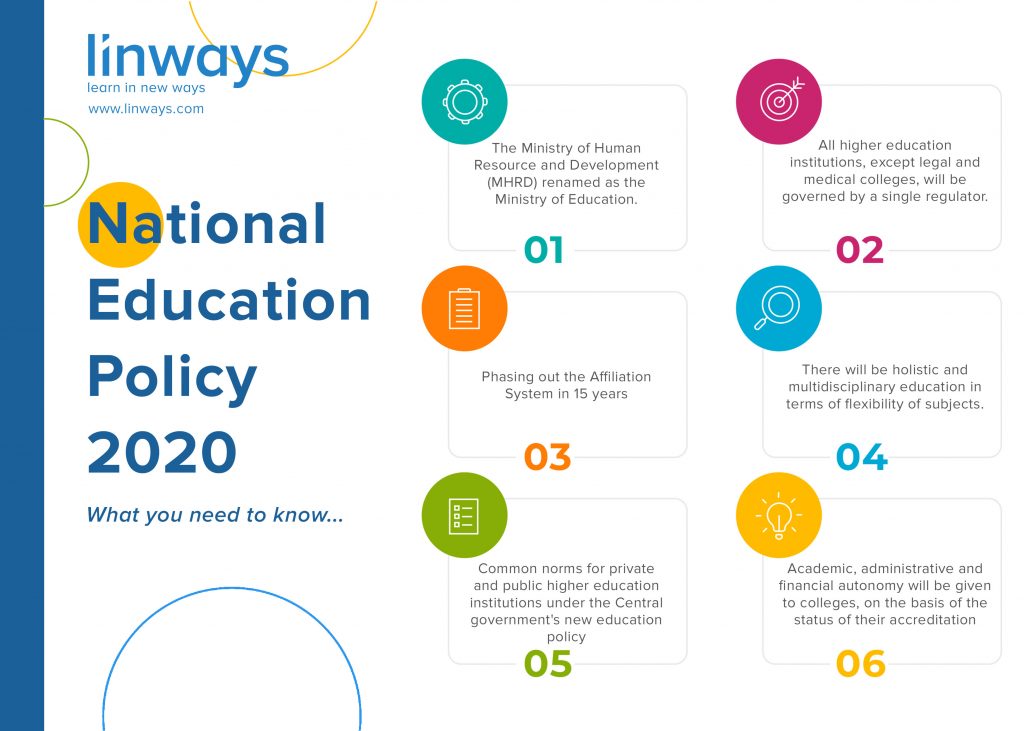 National Education Policy (NEP) 2020
The Indian Union Cabinet has approved the new National Education Policy (NEP) with an aim to introduce several changes in the Indian education system – from the school to the college level. Speaking to reporters, Union minister Prakash Javadekar said the changes are important as the policy, which was framed in 1986 and revised in 1992, had not been revised since then
In this blog, we are going through some key highlights of the changes the NEP proposes.

Key highlights of National Education Policy (NEP) 2020
The NEP proposes that by 2040, all higher education institutions (HEIs) shall become multidisciplinary institutions, each of which will aim to have 3,000 or more students. There shall, by 2030, be at least one large multidisciplinary institution in or near every district. The aim will be to increase the Gross Enrolment Ratio in higher education including vocational education from 26.3% to 50% by 2035. Single-stream higher education institutions will be phased out over time, and all will move towards becoming multidisciplinary.
The Cabinet has renamed the Ministry of Human Resource and Development (MHRD) as the Ministry of Education.
All higher education institutions, except legal and medical colleges, will be governed by a single regulator.
Phasing out Affiliation System in 15 years.
The ministry announced that there will be holistic and multidisciplinary education in terms of flexibility of subjects.
Common norms will be in place for private and public higher education institutions under the Central government's new education policy
Common entrance exams will be held for admission to universities and higher education institutions, as per the New Education Policy
Other features include graded academic, administrative and financial autonomy of institutions
E-courses will be developed in regional languages; virtual labs will be developed and a National Educational Technology Forum (NETF) will be created
There are over 45,000 affiliated colleges in our country. Under graded autonomy, academic, administrative, and financial autonomy will be given to colleges, on the basis of the status of their accreditation
Report cards will be a comprehensive report on skills and capabilities instead of just marks and statements
The national mission will focus on basic literacy and basic numeracy
Major changes have been announced in the pedagogical structure of curriculum with no rigid separation between streams; all separations between vocational and academic and curricular and extra-curricular will also be removed
UGC AICTE will be merged.
All University governments, private, Open, Deemed, Vocational, etc will have the same grading and other rules.
A New Teacher Training board will be set up for all kinds of teachers in the country, no state can change.
The same level of Accreditation as any college, based on its rating college will get autonomous rights and funds.
A credit system for graduation for each year student will get some credits that he/she can utilize if he takes a break in the course and comes back again to complete the course.
Of course, there is still more to be learned, and as more long-term plans come into the light, we will have more clarity in this vision of NEP 2020. Linways, being at the forefront of education, regularly publishes informational and latest updates in the education domain. Follow us on Linkedin and subscribe to this blog to receive such updates regularly.
---
---
Also published on Medium.