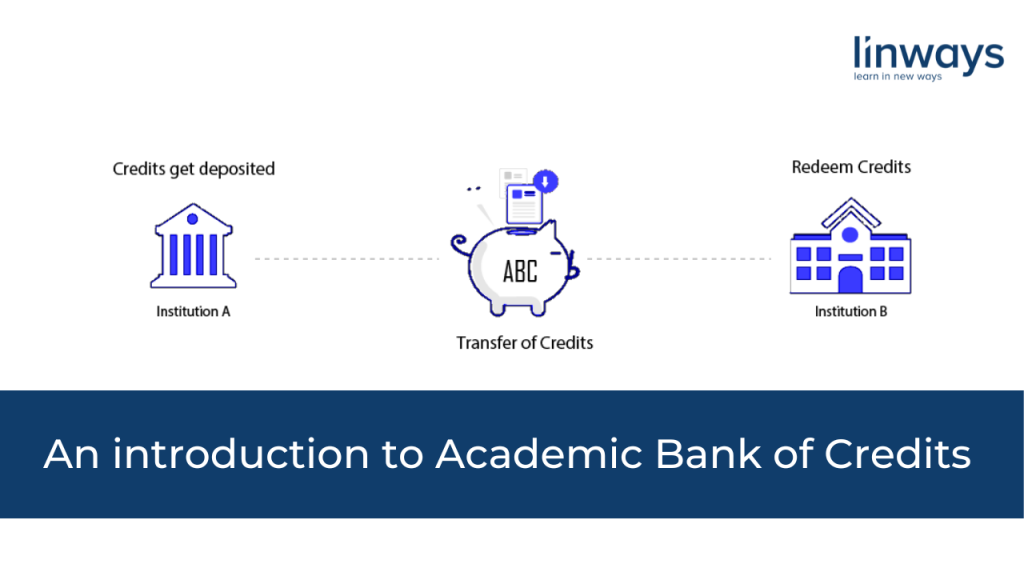 Academic Bank of Credits (ABC) in Higher Education- An Introduction
Academic Bank of Credits (ABC) is a virtual/digital storehouse that houses data on the credits that one student has accrued over the course of their academic careers. This system has been shown to work well in other countries, and it could be the answer to help alleviate stress for students here in India. Now may be the best time to introduce such a futuristic strategy which would provide unlimited possibilities for a student to learn as technology in the education sector is thriving. Therefore, technology may help to ease the transition period for both the student and the teacher.
Recently, The University Grants Commission (UGC) requested that all higher education institutions register immediately on the Academic Bank of Credits (ABC) platform and upload the data of all student credits acquired during or after the 2021–2022 academic year. So, what is an Academic Bank of Credits? Why is UGC making such a strong push? Let us take a closer look at ABC and how it performs.

To expand the ABC program's reach, all higher education institutions are urged to implement the following steps immediately:
The institutions must register on ABC's official website.
Furthermore, they need to publish data on student credits earned during or after the academic year.
To actively promote students in opening Academic Bank accounts on the ABC portal, the institutions should inform them of the ABC feature.
The institution should also include a hyperlink to the ABC URL on the homepage of its website.
Additionally, they must designate nodal officers to carry out ABC and update their websites with relevant information.
The institution may find the entire ABC operation a strenuous process, making this a crucial area where technology must pitch in.

What is the Academic Bank of Credits(ABC)?
Academic Bank of Credits, generally referred to as ABC, is a virtual repository that will maintain a record of the academic credits that a student has obtained. Students will be its clients, and ABC will provide them with a range of services. It will operate as a commercial bank. An Academic Bank Account must be opened by students, and each account user will receive a unique ID and Standard Operating Procedure (SOP). Higher education institutions will issue credits to students for the courses they are taking on their academic accounts. ABC will be in charge of opening, closing, and certifying each student's academic account. Additionally, it will carry out responsibilities including credit verification, credit accumulation, student credit transfer and redemption, and promotion of ABC among stakeholders.
Significance of Academic Bank of Credits(ABC) in higher education.
The credits will provide the students with a lot more freedom to choose their academic and professional paths.
The students will have the option to leave their institute at any point during any year or semester and, if qualified, exchange their earned credits for a certificate or diploma.
Students can use the credits to re-enroll in the same school, another school of their choosing, at the same time, or at a later date, continuing their education from the year or semester they are currently in.
The time a student spent pursuing a degree won't be wasted even if they decide to leave a course.
The program will eliminate the coercive mechanism used by some institutions to force students to remain enrolled in their courses against their choice to make money.
Institutions performing well will see a significant boost in the student enrolment ratio.
How does the Academic Bank of Credits work?
As mentioned earlier, the Academic Bank of Credits (ABC) would act as a reference point for faculty to check the credit records of students. The students need to follow the given guidelines to be a part of the ABC.

1: Opening The ABC Account
To initiate, the students need to open an Academic Bank Account on the ABC portal (www.abc.gov.in).
They might require details like their name, address, certificates, course details, etc. for creating the ABC account.
A unique ID and password will be created from where students can log in at any given point to check their earned credits.
2: Credits Information As Per Courses
As per the courses, a credit structure will be created by the Government.
The automatic awarding of credits occurs when a student enrolls in any course and passes the tests.
Institutions must complete the necessary information and submit the deposits made to the Academic Credit Bank accounts of the students.
3: Evaluation & Verification Of Credits
The Academic Credit Bank will periodically carry out any type of credit review and verification.
Students can contact the ABC for further steps if they want to transfer their credits.
It will support regulating the proceedings with the utmost authenticity.
4: Types Of Courses
5: Credit's Validity
The credits earned by students will be valid for seven years (the validity of credits is subject to change depending on the type of courses or disciplines. In such instances, ABC will provide the details of the exceptions to students)
Even if a student takes a break from school or is unable to continue, they may use their acquired credits again within seven years.
Conclusion
Under the Academic Bank of Credits, a student can earn a degree from any Higher Education Institution(HEI) with Multiple Entries and Exit System (MEES). It provides you with multiple options and allows you to take courses that you may not have otherwise been able to pursue. Instead of spending three years in one college, a student can seamlessly switch from one college to another. To earn a degree, a student will now be required to hold a certain number of credits under his or her account. With the right technology and proper management system, this initiative will lay the groundwork for the Indian educational system's future development. Additionally, ABC assists the students in widening their areas of competence, thereby elevating the standard of human resources.
We will get back to you with more information on the ABC in our upcoming blogs

---
Also published on Medium.