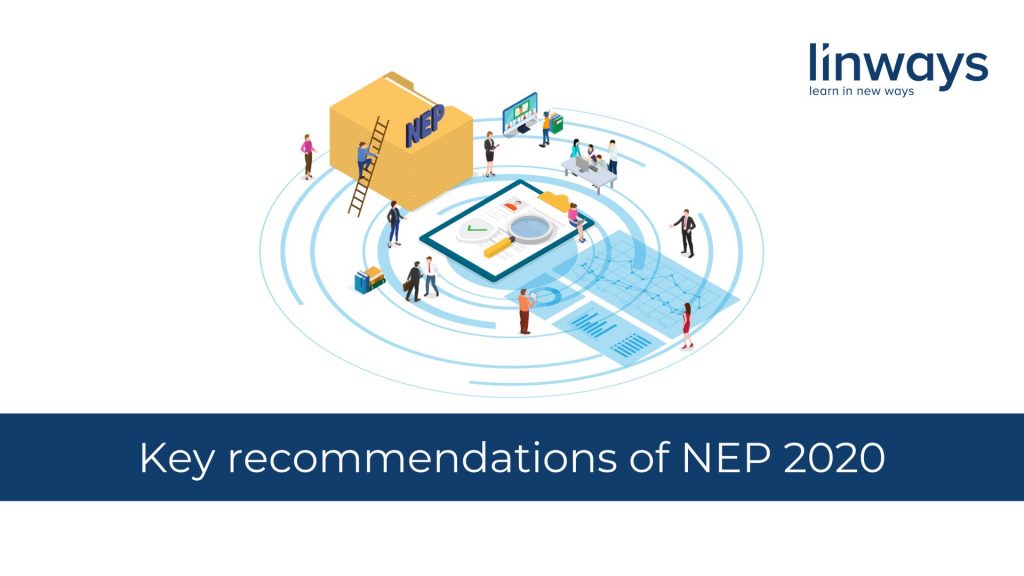 National Education Policy (NEP) 2020 stands tall against all other education policies that have ever been introduced into the Indian education system. One important aspect is that the development of the creative potential of each student is clearly emphasized in NEP 2020. Some recommendations put forth by this revolutionary policy are stated here- key recommendations of NEP 2020.

Key Recommendations of NEP 2020
1. 5+3+3+4 format:
The 10+2 system will be divided into 5+3+3+4 format.
This indicates that the foundation stage will last for the first five years of school. Classes three through five will make up the preparatory stage for the following three years. Later, classes 6 through 8 will have three years of middle school and four years of secondary school (classes 9 to 12)).
Students will have the freedom to enroll in any courses they wish as there won't be any fixed streams of arts, commerce, science, etc. in schools.
A National Foundational Literacy and Numeracy Mission will achieve basic literacy and numeracy abilities at the Class 3 level by 2025.
Beginning in Class 6, students will take coding lessons and participate in vocational pursuits.
Indian knowledge systems, including tribal and indigenous knowledge, shall be accurately and methodically included in the curriculum.
2. Language preference:
The three-language system will be more flexible, and no State will be forced to use a particular language. States, regions, and students will choose the three languages that children learn.
Sanskrit will be offered as an option at all levels of school and higher education.
The medium of teaching will be in the home language/mother tongue/regional language until at least grade 5, and preferably until grade 8 and beyond.
3. Inclusive Education:
Inclusion is a theme of the Policy that extends beyond technology.
The National Education Policy(NEP) places a strong focus on ensuring everyone has access to education and aspires to re-integrate two crores, of out-of-school children.
It also aims to double the Gross Enrolment Ratio in higher education, including vocational education, from 26.3% in 2018 to 50% by 2035.
The undergraduate degree, which is of 3 to 4-year duration, will have multiple entry and exit options.

If a student decides to drop out after one year, he or she will get a certificate in a discipline or field, including vocational and professional sectors.
Students who leave their studies after two and three years will get a diploma and a Bachelor's degree, respectively.
However, the four-year interdisciplinary Bachelor's program will be the preferred choice and, if a student pursues a project alongside it, will award a degree with research.
The academic credits obtained from different accredited HEIs will be digitally stored by the ABC so that degrees from an HEI can be conferred taking into account credits earned.
A comparable initiative is now in a place where students can choose a degree-related course on the government's SWAYAM online learning platform. Credits for that course will be awarded to the student and support their evaluation for their degree course as well.
6. Teacher Eligibility:
A four-year integrated B.Ed degree will be the required degree for teaching by 2030.
7. Technology in Education:
The National Educational Technology Forum (NETF), which has been suggested as being established as part of the policy, will serve as a forum for the free exchange of ideas on how to use technology to improve learning, assessment, planning, administration, etc.
For both secondary and postsecondary education. The ministry will establish a specialized unit for the development of digital infrastructure, digital content, and capacity building.