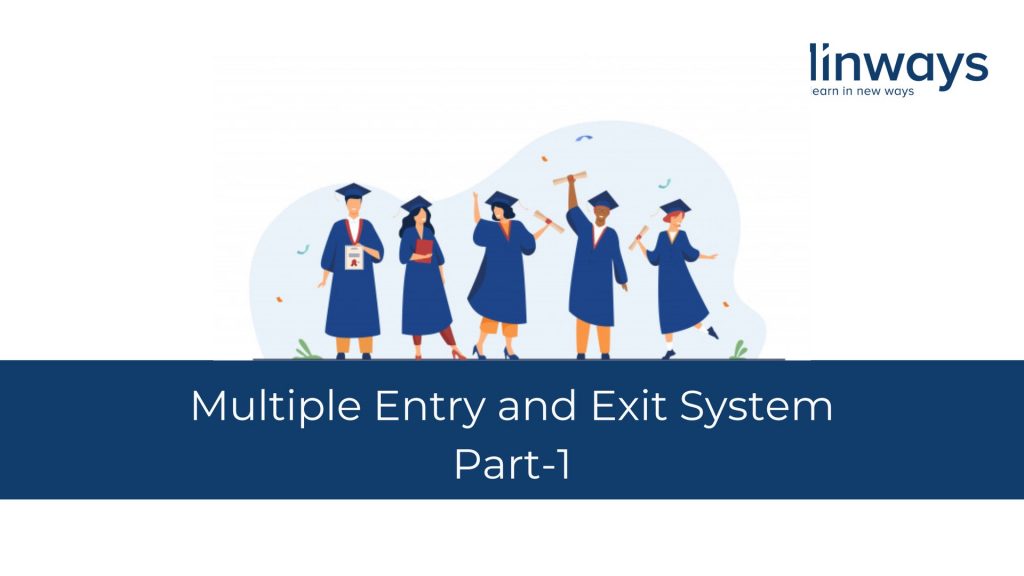 Multiple Entry and Exit System(MEES) in higher education
National Education Policy (NEP) 2020 aims to provide quality and equitable education to all children in India. One of the major attractions of the NEP 2020 was the introduction of multiple entries and exit options. This blog throws light on what is the Multiple Entry and Exit System(MEES) in higher education.

Multiple Entry and Exit System(MEES) can be considered the cornerstone of the New Education Policy in Higher Education. By MEES coming into action, a student will get the option to drop their course and resume it at a later stage as and when they desire or deem it worth pursuing. While dropping out is perceived with a negative notion in our society, implementing the Multiple Entry and Exit System(MEES) eases the burden on a student who has to drop out because of financial circumstances or other reasons. On an optimistic note, a student can exit from their education, become an entrepreneur and complete their studies later while already established and successful. What a marvelous feat that would be! Regarding these possibilities, MEES brings the best from National Education Policy 2020.

In accordance with NEP 2020, University Grand Commission (UGC) formulated guidelines for its implementation in all the colleges and universities in India.

Guidelines for Multiple Entry and Exit System
UGC suggested a) a 3-year program and b) a 4-year program (preferred)
In order to implement the MEES, the UGC asked the colleges and universities to reserve a few seats in the 2nd year, 3rd year, and 4th year of every degree program for the lateral entry of the students.
UGC also called for the maintenance of the Academic Bank of Credits (ABC) for every student in every semester of every academic program.
Let us look into the benefits of the Multiple Entry and Exit System (MEES):

Benefits of the Multiple Entry and Exit System (MEES)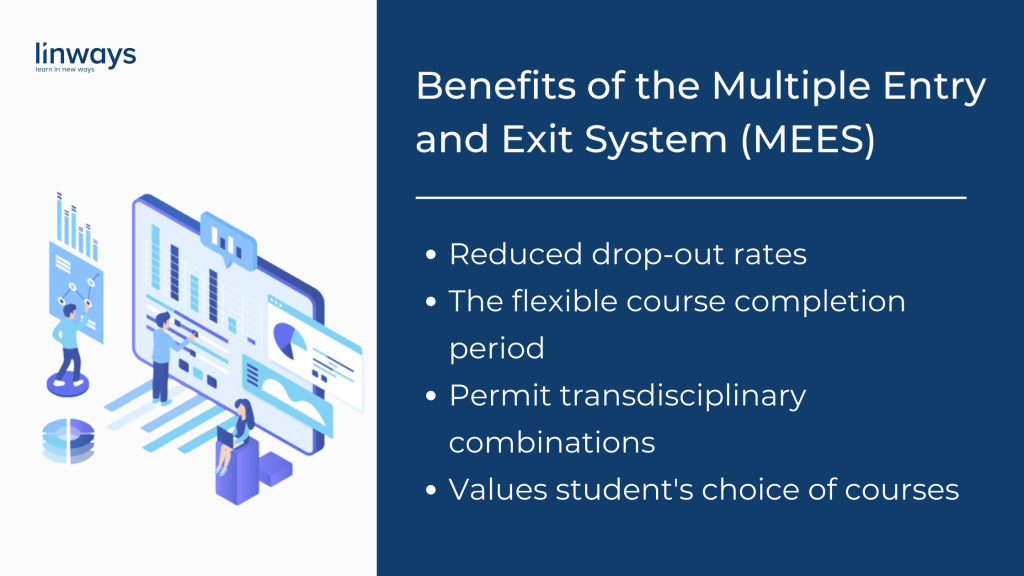 MEES is going to play a significant role in reducing drop-out rates. Under the present situation, students who need to take a break even for any valid reason are labeled as drop-outs. They get no qualification certificate for the period they were enrolled and studied in Higher Education Institutes. The exit and entry options provided by MEES will break this conventional pattern and make education more vibrant and valued for the student. Increasing Gross Enrolment Ratio in higher education is one of the objectives of NEP 2020.
The flexible course completion period
An innovative and flexible curriculum with various entry and exit points will replace the existing rigid, uniform, and mechanical framework to provide students new opportunities to choose and select the courses they want to study based on their preferences, convenience, or necessities. The Academic Bank of Credits (ABC) system will hold the credits that the students earn during their first and second years. Students can thus use these credits for additional education at any moment if they choose to take a break from their study and resume it within a specific time frame.
Permit transdisciplinary combinations
Students will have more freedom and flexibility to enroll in or withdraw from courses as they see fit. They will also have the chance to switch courses.
Values student's choice of courses
Students will have much more freedom under MEES to choose the major and minor courses they want to pursue. This initiative will revolutionize India's higher education system, as only interested students would complete the degree through the Multiple Entry and Exit System. No one will be forced to finish the course by any means if they are not interested in continuing.

Conclusion
Flexible learning is essential when deciding on an academic path that leads to the award of a certificate, diploma, or degree. There are times when students have to interrupt their study in the middle for a diverse range of reasons. Credit clearance data for such incomplete academic programs are still lacking. Some Higher Education Institutions (HEIs) use contingency approaches by letting the student accept a certification at a lesser level. With the implementation of the Multiple Entry and Exit System (MEES), these rigid boundaries will be eliminated, guaranteeing students won't lose any time if they leave college early.
The operational details and credit system as per the National Education Policy (NEP) 2020 will be updated soon.