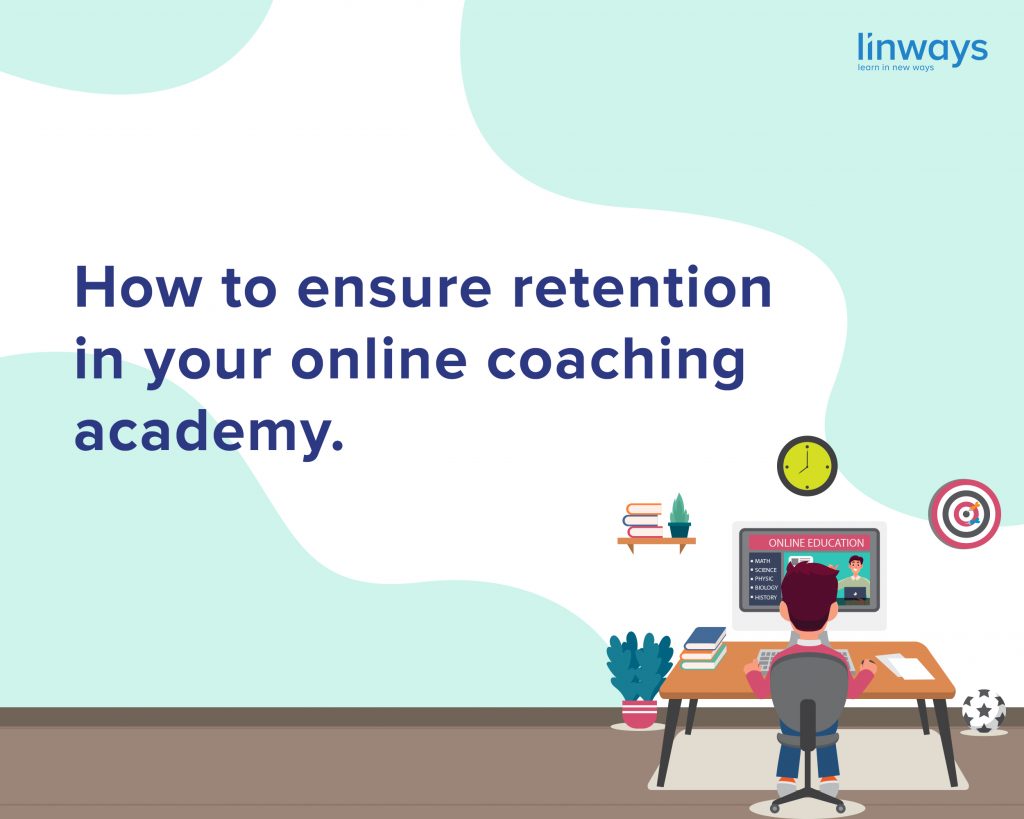 We have previously discussed the shift in the coaching/training education sector and saw how to manage a coaching institute using Linways LMS. You can also check out our new ebook on How to manage coaching & training institutes using adaptive strategies.
However, as the coaching and training industry is experiencing exponential growth during the past few years, ensuring that your students are engaged and retained is crucial. So in this article, we are going to discuss some strategies that will help coaching and training institutes to retain their students.
Connectivity and digital preparedness.
With the impact of COVID19, education in both the mainstream and parallel industries has gone digital. This shift towards technology can be a great way to gain momentum and edge over the competition for your institute. Using technology platforms like Linways LMS, you can easily manage and connect the entire student community in one place. This creates a classroom community that nurtures peer learning and student-teacher interactions.
Studies show that students learn better if they are a part of a community that promotes healthy competition.

Another advantage of digitally transforming your institute is the added accessibility. Students can interact with the teachers and their peers more easily with a communication-enabled platform like Linways to power the institute. It also makes sharing the study material easier.
Personalized assessments and feedback.
As we have mentioned in our ebook, one of the crucial reasons why students turn to a coaching center is the added competitive edge and learning support. Make sure that your institute offers exactly that. Maintain a detailed student profile with all the relevant information about them in your files. This will help you interact with any student to maximize their full potential. One student's learning behavior may be entirely different form another. So having insightful data at your disposal can make all the difference. If you are using a learning management platform like Linways LMS, it practically handles all the data for you which makes this easier.
Also, don't forget to translate this data while assessing and providing feedback to your students. As mentioned earlier, create personalized learning assessments based on the knowledge and learning patterns of your students. Provide constructive feedback that will help them achieve better results by the next assessment. All this can be done with an efficient data management workflow. It's definitely worth the effort because once you have this system up and running, the student will be able to experience a better learning environment and that in turn leaves them satisfied and wanting for more.
Organize lectures and learning materials.

Students should be able to access the necessary resources without having to spend too much effort. Course materials should be organized and should be available from one single access point. This brings out the organization and clarity about the whole course.

If you are using digital learning management systems like Linways, you can upload the course materials over with the course plan, organize them, and share them with the students through the platform itself.
Create a warning sign for early information.
Often when students are about to drop out or change institutes, they show signs of assertiveness or regular negative performance in assessments. Take these early warning signs seriously and take preemptive measures to counter them. You can use some attendance tool to measure student activity. This will show if a particular student is consistently missing out on classes. You can then confront them directly and resolve the issue. Another great way is to measure student progress using assessment tools. Any student regularly underperforming should be given extra care and attention. This personal care often makes a huge impact on student behavior and they automatically respond by trying harder. Positive reinforcements can also be used to maintain student relationships.
So there you have it. These are some effective ways to ensure retention in your online coaching academy. Please let us know your thoughts and suggestions in the comments about these or any other effective strategies that we haven't discussed here. Also please consider subscribing to our blog and newsletter to receive the latest updates and fresh content on education, teaching-learning, technology, etc. in your inbox.
---
Also published on Medium.