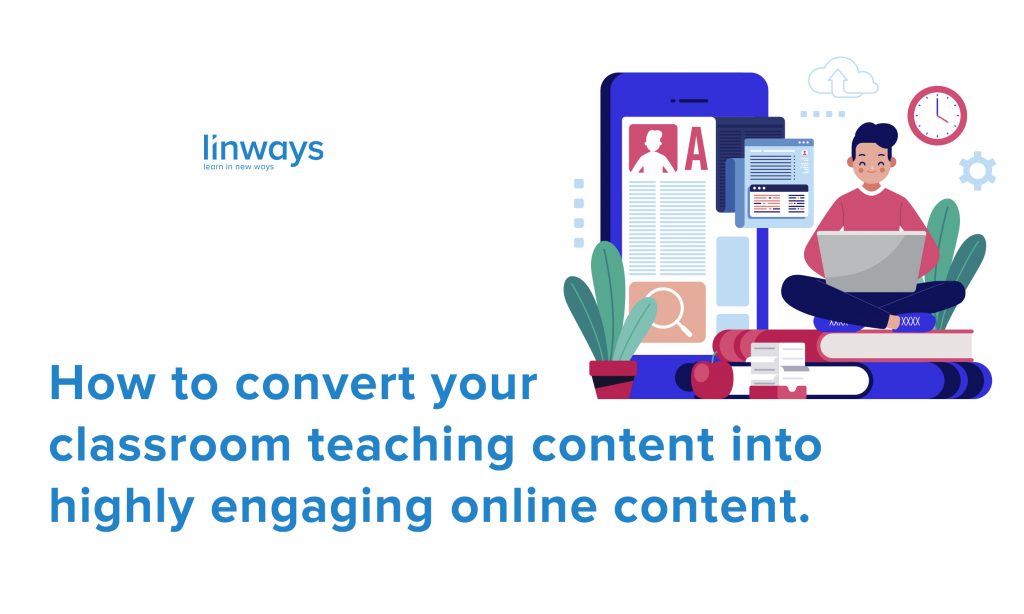 While adapting to the latest online learning trends, there are many things our teachers need to consider. Keeping the engagement in your online classroom, finding the right technology for instruction, managing the online classes can all be difficult. We have mentioned these topics in some of our previous articles and you can check them out here if you're interested.
While we may have solved the technology barriers and created teaching strategies for online classes, most teachers still have some issues with managing online content. So in this article, we are going to discuss managing to convert your old classroom teaching content into engaging online content.
What types of content are we talking about

To being with, most teachers use lecture notes. These are short descriptions about the topic being taught that helps teachers to find their way without losing focus. Though teaching notes are still very efficient for online teaching, managing their whereabouts can be troublesome, especially in online classes. So the most obvious way is to convert the whole document into a word or pdf file and upload it into your personal storage space, preferably within the learning management platform that you are using. This also solves the accessibility issues and you can easily update them any time you want. Having an online copy of your lecture notes in your LMS also allows you to share them and collaborate with your peers from time to time.
The next popular instructional content would be the subject notes that you pass on to your students to learn. There are a couple of ways you can transfer these into the online depending on how far you are ready to go.

Begin with making it more relevant and outcome-based.
More often than not, most teaching notes are based on textbooks. Although they are essentially the foundation for the curriculum, try to make it more relevant using real-world scenarios and qualitative. You are already sorting through the content while conversion during this process, so consider this as an opportunity. Also, keep the goals and institution's desired outcomes in mind while doing this. You will save a lot of time and achieve so much more in the future in terms of quality.
Create categories of formats
Formats are very important in ensuring engagement. The regular note-taking process won't necessarily do for online classes. With so much more potential for distraction and abundance of multimedia, it's only sensible to create different topics in different formats of online content based on their importance and relevance. You can convert the core foundational topics into short explainer videos, and record your lectures for topics that are self-explanatory. This way, they can be accessed over and over again if your students need to. This also allows asynchronous learning to happen on the side and students who have trouble grasping the concept can use them to catch up easily.
For more important areas, you can convert your content into slides and presentations which you can use in live classes. Converting important information into smaller concepts will help your students to grasp the concept quickly and you can have a better teaching experience with a manageable presentation format.
Add summary and key points at the end.
Another useful tip for converting the offline content into sharable online content is to add a short summary of the topics discussed at the end. This recap works as a reminder of what the students just went through and it affirms the concept in their memory. It is also easier to pick out and refer to quick reading for an assessment. This will help your student by a great deal if you have the time and resources to properly make it happen.
Create templates.
No matter what tool or platform you are using, it is always recommended to create a common template for all your content. This helps you in two ways. When you need to update your existing content to add or remove details, it will be easy to do so since there's already a clear structure to the document. It also allows you to create fresh content from scratch as you don't have to go through all the fuzz like the first time. Templates make it easier to manage and create instructional content. An added benefit to this practice is that your students will be able to relate to your content easily.
So there you have it. Some useful tips you can use to convert your existing classroom content onto engaging online content. Please let us know any tips or suggestions you might have on this in the comments. And please consider subscribing to our newsletter if you want to receive our latest blogs and updates on education, teaching-learning, learning theories, teaching techniques, and edtech.
---
Also published on Medium.