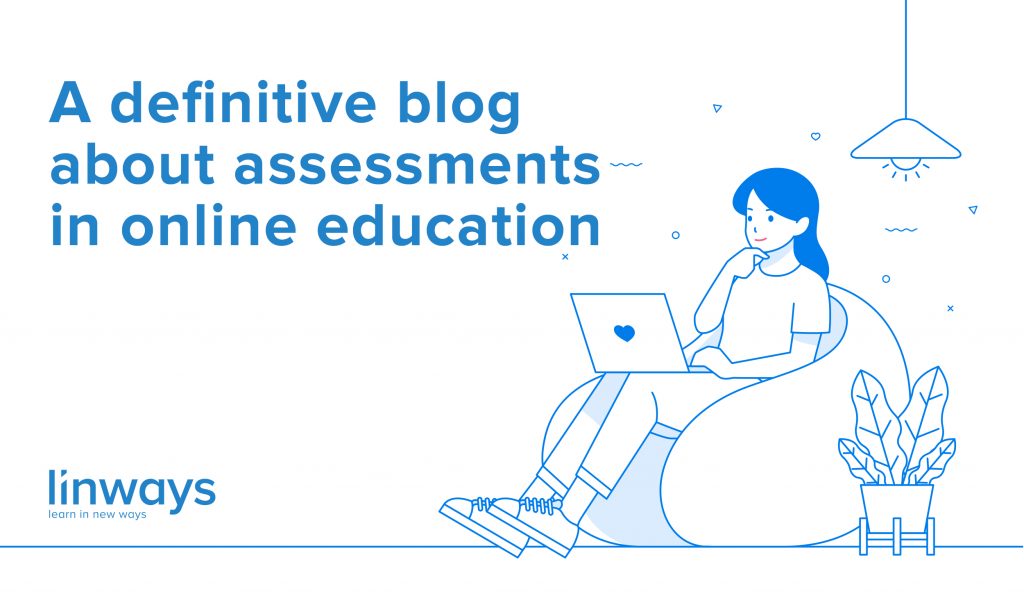 What is an Assessment
Assessment is a series of measurements that use various methods and techniques, to collect data on student learning in order to refine teaching programs and improve student learning capabilities. It includes conventional examinations, projects, classroom performance analysis, practical/laboratory activities, extracurricular activities, etc. The term "assessment" is so broadly defined because it needs to include any outcome or goal in any activity or discipline that can be a part of this process
For the sake of this article, and it's expected audience, we will mostly cover core learning-related aspects of assessments here. If you are interested in the broader definition, we're only happy to discuss it with you in the comments.

It is a continuous process fixated on measuring student learning outcomes for
providing enough learning opportunities to achieve these outcomes, 
implementing a systematic way of teaching, 
analyzing achievements, 
collecting evidence to determine how well students' learning matches expectations, and 
using the collected information to make informed decisions and improvement in student learning. 
Assessments are always cyclical and are revised to meet requirements.
How does it fit inside the higher education system
Assessments are what comes after setting learning objectives and expectations. Every program, course, subject, chapter, and topic should contain certain learning objectives that the student should achieve, after completion
Each question in an assessment  should ask: 
What is the purpose of this question?
What specific knowledge will be gained about that shall be useful to improve the teaching-learning experience and course delivery?
Here are a few online assessment techniques for your online classes. 
It is simply a learning paradigm that focuses on the outcomes or goals instead of results. The educators set a certain number of necessary skills and knowledge that the learner should possess at the end of education and they are identified as the outcomes. The assessments like exams, assignments, and projects are then defined to measure the achievement of these outcomes, and their results indicate whether the students have achieved them or not.

Every assessment is designed to find out how well these outcomes are achieved. Each piece of an assessment are mapped with various, sometimes multiple, outcomes so that the result of that assessment tells us if these outcomes are reached or not. For instance, in an exam, every question is mapped to these outcomes. So based on how well a student has answered those questions, teachers can estimate how close that student is towards reaching that outcome.
So assessments give us indicators in the form of results, that helps us measure the achievement of learning outcomes. Just like this, outcomes or objectives can also be set on other areas of the institution, like teacher performance, infrastructure, student well-being, etc. those are usually measured during the evaluation, or accreditation/certifications
What are the different types of assessments?
There are two kinds of assessments: Formative and Summative.

Formative assessments
Used to monitor student learning and plan for subsequent instruction. Data gathered from formative assessments provides insight into student strengths, weaknesses, and developmental progress.

Summative Assessments
Used to gather data about the attainment of knowledge and development of skills proficiencies. Allows stakeholders to measure how well students meet learning objectives and provides insight into the effectiveness of instructional tools and curriculum design.

Though there are many perspectives, we have identified 5 key levels of assessments that are particularly relevant to education. They are:

Student assessment
Batch assessment
Course assessment
Program assessment, and
Institutional assessment
---
Student assessment
The first level is the student assessment with respect to the course. This points to the individual student's performance with respect to the course outcomes. The major goal of this level of assessment is to measure the student's performance and learning capabilities. The assessment tools utilized should provide data that highlight student strengths and weaknesses and guides development with actionable recommendations for improvement.

This level of assessment is usually carried out with assessments that provide insight's into a student's understanding of the subject matter after the learning process. It includes exams, asking questions, giving them assignments based on what has been taught, etc. Each assessment should be accurately mapped to the learning outcomes of the specific course or subject. This helps the teachers to decide if they should alter their teaching methods, or offer special assistance to students who may not achieve the desired outcomes.
Batch assessment,
The batch assessment is for measuring the learner's performance as part of a batch. This refers to their potential, learning capabilities, personality, development, etc. Assessments designed for this level will measure the overall development of a learner, both as an individual and as a learner.

Assessing individual student learning across courses accomplishes the following goals:
Provides an understanding of development over time
Provides actionable feedback for the student
Provides insight into how well students are performing against program learning objectives for the stakeholders.
Should be able to suggest improvisations to the development gaps and improve educational quality
Course assessment,
The third level of assessment asks programs and institutions to evaluate the effectiveness of courses in helping students meet learning objectives, prepare for future courses, and obtain expected levels of knowledge and skills proficiencies.

Just like the previous two levels, both formative and summative assessments can be used in the assessment of courses. The assessment of courses allows stakeholders to identify areas of the curriculum which need improvement.
Program assessment,
The fourth level of assessment is the assessment of programs to measure their alignment between curriculum designs and learning objectives. The data gathered at this level of assessment tells us how well a program prepares students to meet learning objectives and also highlights educational gaps within the curriculum.

The assessment of programs mostly requires the implementation of summative assessments that address the following six questions:

Do the program's courses, individually and collectively, contribute to its outcomes as planned?
How well does the program fulfill its purposes in the entire curriculum?
How well do the program's sub-categories contribute to the overall purposes?
Does the program's design resonate with its expected outcomes?
Are the courses organized in a coherent manner to allow for cumulative learning?
Does the program advance institution-wide goals as planned?
The effective assessment of programs requires the collection of data at the entry, midpoint, and end of the program.

Institutional assessment.

The final level is the self-assessment of the institution. It should be designed to measure the institution's role, and performance, in assisting the students to achieve the learning objectives, and preparing them for research/higher education/employment. The results of this assessment are used to reevaluate the institution's strategies in student engagement, methods of teaching-learning, and improve the curriculum design.

This level of assessment usually comes as a part of quality assurance, in the form of accreditation/certification/ranking with other institutions of the same domain. This allows the key stakeholders to understand if and where improvements are needed.

Another important aspect of this assessment is that every level of stakeholders takes active participation in it. From the management and administration until students and parents take part to provide meaningful insights and indicators of the quality.
How to improve assessments using technology.

In the end, it's all about improving education. We have previously written about using Learning Management Systems to improve the institutional quality, and how they can positively contribute to the improvement of each and every aspect of education.
Linways LMS, in its entirety, can help institutions to conduct these assessments with relative ease, and minimal overhead. Beginning from the first level, the institution can declare exams through the system, assign faculty with various roles for managing the process, and publish marks and certificates through the platform. Since the whole institutional data is managed from one single application, there's very little room for error and no need for workarounds or multiple entries.
Moving on, teachers can create question papers, assign exam halls, create hall tickets, and more through Linways. This helps minimize the workload by a huge amount.
Other assessment methods such as assignments, lab, attendance, and classroom performance feedback are all available in Linways LMS to ensure a very 21st-century education experience. It leaves no stone unturned when it comes to assuring quality. Since everything is always online and backed up, accessibility is never an issue. All data in the desired format is available 24/7.
There are also options to collect faculty feedback from the students and a well-designed grievance portal for the institutional assessment.
Linways also supports various learning theories and practices, including Outcome-Based Education. So from the very beginning, every activity, assessment, and actions are intuitively mapped to those learning objectives and it provides a very detailed, yet comprehensible analysis on all levels of assessments. If you are interested, you can check out Linways LMS here.
---
Also published on Medium.