A checklist for your institution to follow before choosing a service provider and a solution platform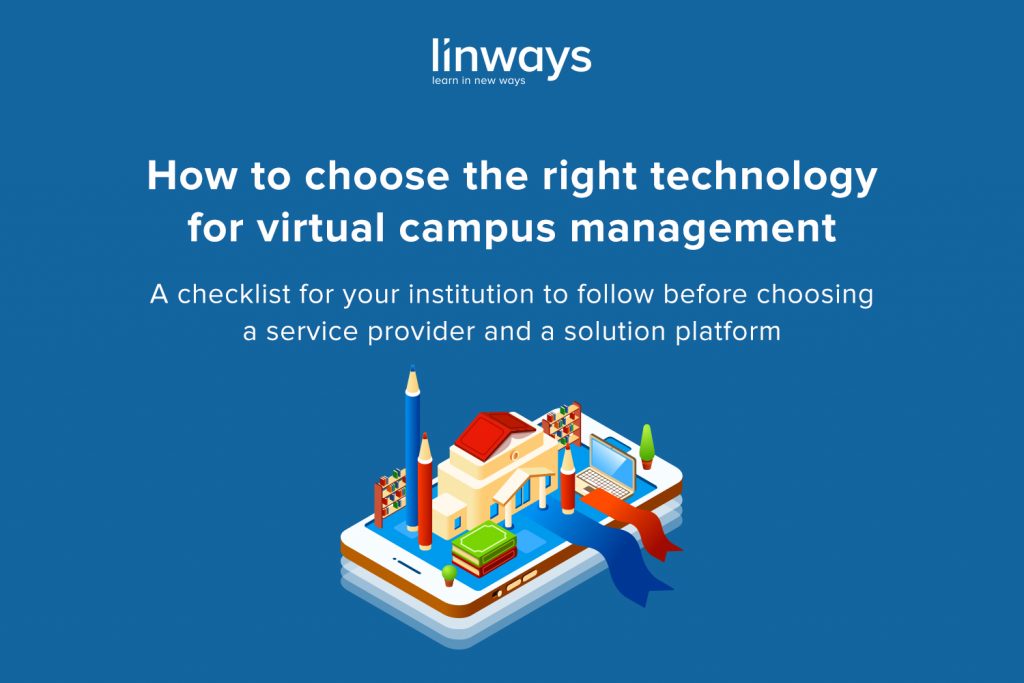 We know that education technology is a swiftly growing field. There are new products introduced every day, and each serves a different purpose or requirement of a campus. Here we are talking about virtual campus management solutions or online learning management solutions that can essentially digitize the teaching-learning. However, before adopting a technology platform for your educational institution, we need to take a step back to analyze why your institution really need such a product.

When a great platform, properly implemented, does wonder for the workflow and energy of the teachers and other staff. Parents and students are looking at education differently than ever before. Learning is no more institutionalized, and people still take courses and grow their skillset beyond colleges or universities. So to be on the current, institutions should focus on how to engage with the students, how to assure a certain level of quality in teaching-learning, and how digital learning is perceived.

Employers are also taking new approaches to acquiring the needed set of job skills. Large corporations are getting weary of waiting for colleges to get up to speed on bringing them needed talent. Some of them are developing their own courses to train workers in the skills the company needs.

Before we begin, we have previously written about choosing the right technology platform for higher education institutions which is more focused on the tools that are available. So if you want to learn more about the types of solution platforms that can help you run your institution, we suggest you head over there
So without getting to more details, let's see how a perfect solution firm would look like for offering campus management solutions for your institution
1. Go for an easily adaptable solution
Any solution that you choose to trust your whole institution's data should be dependable. It's such an obvious fact but too crucial to leave out of this list. Whatever platform that you'd choose, the teachers and non-teaching staff would have to work with for a very long time. The transition to the new platform is important and shouldn't take too much time and effort to learn.
2. Easy to implement
Expanding from the last point, a great solution should also be dependable, reliable, and easy to implement. If it takes too much of your time and effort to barely get up and running, how much more time would it cost when the whole campus starts running on it? Saving valuable time of your teachers and staff should be the top priority behind choosing a solution
3. Go with a company that offers great customer support
Support should be one of the basic fundamental factors behind choosing a solution. It matters so much right from the beginning when your staff starts to familiarize the platform till every time they need a new feature, bug fix, or update. Take some time to analyze the morale of the company that's serving you, and see if they will be there when your team needs help.

4. A company that has experience in handling all different scenarios in higher education.
In higher education, a lot's at stake. It's literally the most crucial part of a child's life there's no way we could screw that up. So make sure that whichever solution you choose, have proper experience in handling different scenarios where things could go wrong, and know how to handle them. 
We will now see what factors are important while choosing the right technology platform for your institutions.
1. Data-Driven Results
As an institution, the way you treat education and manage it is different from MOOCs or short-term online courses. It's not an instructor-focused show. There are intricate levels of hierarchy, complex workflows, and data-driven decision making involved. So make sure that your solution can cater to the needs of your institution virtually while helping education
2. Tools For Testing And Assessment
This is where most solutions fall apart. The course completion is not just about attending, but students also have to be evaluated based on their performance over the long term. So whatever platform you choose must be able to hold up during assessments. Online exams, assignments, group discussions, results, rank lists, various criteria involved in ranking like the scholarships or external points all need to be considered.

As we said, it's very different for MOOCs or online course platforms and entire institutions, and digitizing education doesn't mean the same in these scenarios.

3. Responsive Learning/Mobile Application
Of course, we are living in a mobile-first world, and students are more reliant on mobile devices than ever. So to secure the future of student acquisition and for being accessible, whatever platform you choose should be mobile-friendly.

4. Customization Options
Technology integration is a major shift in institution management. But there are huge areas of report generation, analytics, and measurements that's needed every now and then. How would you access these crucial data if it's not available conveniently? Even if it does, what happens if a new set of data is required? Like a change in university norms or a regulatory assessment that needs you to submit a report.

A perfect solution for virtual campus management should be able to customizable, or at the very least, configurable. That way, you can ensure that your platform will be there to support you over the long term, even if new requirements arise.

5. Course management
This is an obvious one, but still relevant. As we mentioned earlier, the courses in colleges or universities work differently when compared to online course platforms. So there's still a lot of consideration to be done if the platform is right for your institution, or is it just good enough to deliver a course online. It's also crucial to have options for course material distribution and online repository to organize and share the course-related files through the system.

And speaking of course management, quality is a major aspect to be considered. How does your platform enhance the teaching-learning experience? Or does it support teachers to try with different teaching methods to improve the quality of teaching? Does it help them implement learning theories like the outcome-based education of choice based credit system within the academics?

6. Student-teacher interactions
An edtech platform that helps campuses to run virtually should also contribute to improving the student-teacher experience. Their constant communication is key in assuring a pleasant learning experience for the students. Check if your platform has message boxes for students to communicate with their teachers. See if it has discussion forums that would help the whole batch to come together and have a normal classroom-like experience through the platform.

Speaking of which,

Linways Learning management system is a complete digital learning platform that helps institutions to run their campuses run virtually. You might want to consider our solution as it caters to all the above-mentioned features and much more to help institutions to digitally transform their education and management. Our platform is trusted by thousands of students and teachers and we regularly bring in new features or improve the existing ones to better the experience based on their feedback. If you are interested in learning more about Linways, please head over to our website, or let us offer you a guided tour of the platform. 
---
Also published on Medium.