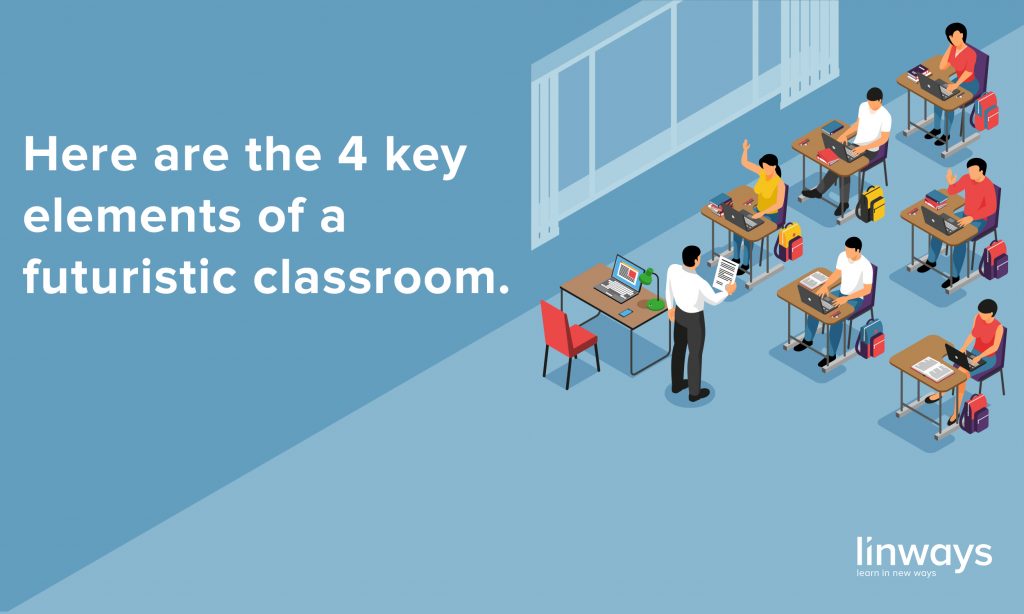 We have often been talking about the future of education, teaching in the 21st century, teaching-learning in the classroom, etc. here. This is more or less a reflection of what Linways sees as a frontrunner in the learning management solution provider. Our experiences in interacting with teachers, students, institution stakeholders, parents, etc. inform us about their fears, perspectives, and outlooks toward the learning industry in the coming decades.

For instance, in this article, we are planning to discuss the elements that make a classroom of the future. What key personalities will a futuristic classroom have, and also how to stay ahead of the curve by future-proofing your own classroom before it's too late.

The 4 key elements of a futuristic classroom?

Technology-assisted instead of replacing.
Though there are several factors that point toward classrooms becoming highly tech-dependent, technology, in any likelihood, will not replace the conventional teacher-led learning environment. In fact, the role of teachers is said to be more relevant in the future classroom than it is today.

Judging by where we are right now and the pace of technological innovations, physical classrooms will not go anywhere soon. Instead, the already prevailing tools and platforms will blend into the physical classroom to give an edge to both the teacher and the students. Internet research, digital literacy, online documentation, advanced data management, meaningful and constructive feedback through performance monitoring, etc. will define a typical technology-assisted classroom.

Curriculum mapping and project management.
As we have mentioned in our earlier articles, outcome-based learning will most likely become the norm soon. With it in effect, the way we manage the curriculum will also experience a major shift. The curriculum will be extensively mapped with every bit of activity and assessment that goes on in a classroom.

Project-based learning and project management principles will more or less define how things are done. This will be true both inside and outside the classroom. Answering questions like what are students learning, why are they learning it, and what are they doing with what they know? Will define teaching strategies and subject planning.

The classroom community becomes more connected.
With better technology adaptation, communication between the students and the teacher will improve and extend beyond the four walls of the classroom. This connectivism will help institutions to build communities that function just like a classroom using digital classrooms. Communication platforms and content curation tools will become the basic fundamentals. Teachers can communicate with each other and collaborate, and students can interact with their teachers or learning materials even when they are not in the classroom. The course content will also transform into videos, presentations, interactive documents, etc.
Self-directed learning.
This is a major trend that has the potential to redefine education, but it's not likely to become mainstream as soon as the other elements that we discussed earlier. However, we're still adding this because it's fundamentally encoded into many of the learning principles and teaching techniques that we are already familiar with today. Self-directed learning is when the student takes over the learning process and leads the way and the teacher supports him/her by providing necessary feedback and directions.

With technology integration, parallel sources of knowledge become abundantly available. Students will have a lot more options to learn from and a lot more domains of the same topic to focus on. This allows lateral learning. So it will be up to them to figure out what to learn and how to learn it. Students' learning habits, pace, etc. will become more clear and teachers can use this data to provide personalized experiences to individual students.

Conclusion
So there you have it. These are some trends and elements of a future classroom that will define teaching-learning for the coming generation. We have curated these from the feedback and research findings of many academicians. Please let us know what you think about these in the comments. Also, mention any elements of a future classroom that you think will emerge that we haven't seen here.
Linways, is a team of enthusiastic young people who are on a mission to "Empower educators, inspire learners, and change the future." Linways is an all-in-one solution for higher education institutions and acts as a digital partner for any of their academic needs. We help the colleges future-ready by building futuristic classrooms and institutions.
Reach us to know more and how we can help you and your institution to reach your future goals.
---
Also published on Medium.