What are Program Outcomes(POs) and Course Outcomes(COs)?
That's a great question. We have been getting this one since we first published our blog series on National Board of Accreditation. After we have published our blog series and ebook on the National Board of Accreditation, there has been immense queries and flow of readers to our blog pages. This we believe, rests upon the fact that many still doesn't know much about the NBA, and would like to learn more about it. For those of you who'd like to know about the basics of NBA and it's accreditation process, we recommend our blog series/ebook.
However, the blog about Course Outcomes and Program Outcomes from that series sees more traffic than the rest of the series. We figured this might mean an opportunity to publish another blog specifically on CO and PO for our readers. We'll discuss the relevance, meaning, and details about COs and POs and PSOs in here. Hope you would find this informative and relevant as our other blogs.
However, before we dive onto the world of outcomes, let's take a more objective look at things, with a little context.
Course objectives and Outcomes
Objective — A course objective describes what a faculty member will cover in a course. They are generally less broader than desirable goals and more broader than student learning outcomes.
Outcome — A detailed description of what a student must be able to do at the conclusion of a course.
We generally map the objective to the outcomes to analyse and document their attainment. An objective is more like a plan, or a road map to reach/attain the outcomes.
Outcome Based Education (OBE)
Deciding outcomes for academic achievements and it's attainment for assessment and formulation is based on a learning theory called Outcome Based Education(OBE). We have already published a blog on OBE. However, we'll just go over the concept briefly here.
OBE is an educational theory that bases each part of an educational system around goals (outcomes). By the end of the educational experience, each student should have achieved the goal. There is no single specified style of teaching or assessment in OBE; instead, classes, opportunities, and assessments should all help students achieve the specified outcomes. The role of the faculty adapts into instructor, trainer, facilitator, and/or mentor based on the outcomes targeted.
The accreditation and regulatory organisations including NBA, NAAC, AICTE etc. has clearly made their intentions clear about introducing a skill-based, competency nurturing learning experience. Many new regulations and changes in the Indian educational front are in regard of this. As of the NBA, their accreditation methods and assessment parameters are based on OBE, and would only relate more to the core concept as time goes. In the words of NBA,
Outcome based education emphasizes on
Stating what you want your students to be able to do at the end of the program,
Assessing the students whether they are able to do what they are expected to do to do what they are expected to do,
Orienting teaching and other academic processes to facilitate students to do what they are expected to do.
Now remember, these are different from your course objectives. We'll look more closely into this while we discuss Course Outcomes (COs).
Assuming you already know about the NBA, we shall step into discussing POs and COs directly. If you have any queries or doubts about the NBA, you could check out our blog series and ebook on the same.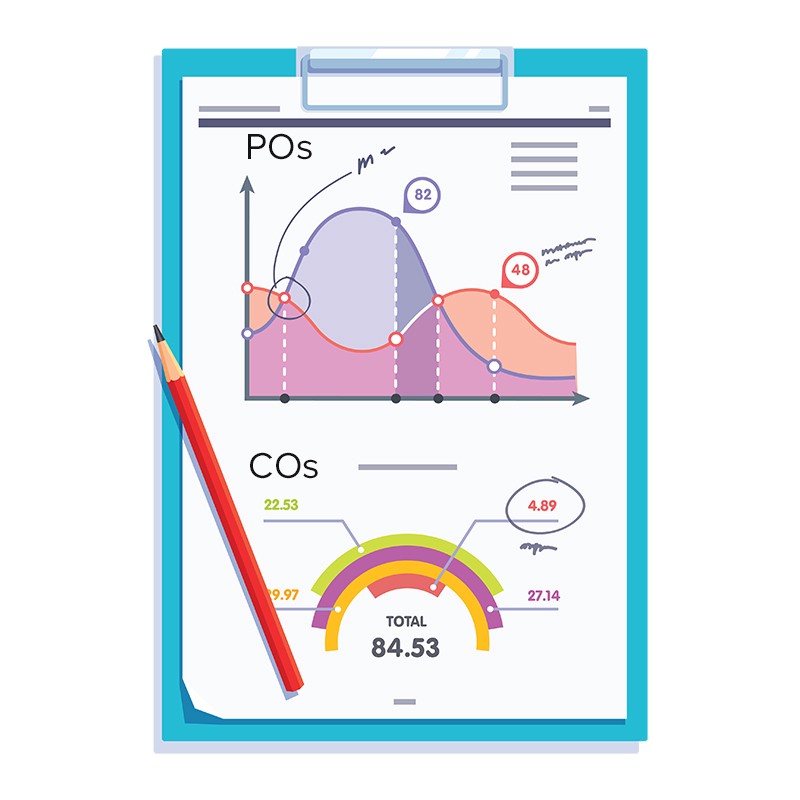 Program Outcomes (POs)
POs are statements about the knowledge, skills and attitudes (attributes) the graduate of a formal engineering program should have. POs deal with the general aspect of graduation for a particular program, and the competencies and expertise a graduate will possess after completion of the program.
These are broad and covers a wider area than of COs. the NBA has set 12 Program Outcomes, or Graduate Attributes for the sake of unity and quality assurance. We'll discuss each of them here. The Program Outcomes set by the institution must reflect on these.
Graduate Attributes
Engineering Graduates will be able to:
Engineering knowledge: Apply the knowledge of mathematics, science, engineering fundamentals, and an engineering specialization to the solution of complex engineering problems.
Problem analysis: Identify, formulate, review research literature, and analyze complex engineering problems reaching substantiated conclusions using first principles of mathematics, natural sciences, and engineering sciences.
Design/development of solutions: Design solutions for complex engineering problems and design system components or processes that meet the specified needs with appropriate consideration for the public health and safety, and the cultural, societal, and environmental considerations.
Conduct investigations of complex problems: Use research-based knowledge and research methods including design of experiments, analysis and interpretation of data, and synthesis of the information to provide valid conclusions.
Modern tool usage: Create, select, and apply appropriate techniques, resources, and modern engineering and IT tools including prediction and modeling to complex engineering activities with an understanding of the limitations.
The engineer and society: Apply reasoning informed by the contextual knowledge to assess societal, health, safety, legal and cultural issues and the consequent responsibilities relevant to the professional engineering practice.
Environment and sustainability: Understand the impact of the professional engineering solutions in societal and environmental contexts, and demonstrate the knowledge of, and need for sustainable development.
Ethics: Apply ethical principles and commit to professional ethics and responsibilities and norms of the engineering practice.
Individual and team work: Function effectively as an individual, and as a member or leader in diverse teams, and in multidisciplinary settings.
Communication: Communicate effectively on complex engineering activities with the engineering community and with society at large, such as, being able to comprehend and write effective reports and design documentation, make effective presentations, and give and receive clear instructions.
Project management and finance: Demonstrate knowledge and understanding of the engineering and management principles and apply these to one's own work, as a member and leader in a team, to manage projects and in multidisciplinary environments.
Lifelong learning: Recognize the need for, and have the preparation and ability to engage in independent and life-long learning in the broadest context of technological change.
Course Outcomes (COs)
POs are attained through program specific Core Courses, which has their own previously set outcomes to attain. These course-specific outcomes are called Course Outcomes. Each course is designed to meet (about 5–6) Course Outcomes Course Outcomes. The Course Outcomes are stated in such a way that they can be actually measured.
COs are set by the institution, by consulting with the department heads, faculty, students and other stakeholders.
For eg., a course such as Mechanical Engineering might have the following course outcomes set.
Understanding systems of an automobile,
Design of an engine Design of an engine,
Troubleshooting an engine,
Performance of an engine,
Design of a transmission system etc.
Program Educational Objectives (PEOs)
Program Educational Objectives (PEO) are statements that describe the career and professional accomplishments that the program is preparing the graduates to achieve. PEO's are measured 4–5 years after graduation.
They are set in order to measure the effectiveness of the program, and to check whether it has prepared the students to deal with the real world, where they could apply and use the skills and knowledge they've learned to good use.
Each program shall specify 2–4 program specific outcomes for the accreditation by the NBA.
CO Attainment
The assessments should be in alignment with the COs
Question paper should be so set to assess all COs
The average marks obtained in assessments against items for each CO will indicate the CO attainment
Instructors can set targets for each CO of his/her course
Attainment gaps can therefore be identified
Instructor can plan to reduce the attainment gaps or enhance attainment targets enhance attainment targets
If the assessment is in alignment with COs, the performance of the students indicates the CO attainment
All POs can be adequately addressed through the selection of core courses and their COs. These measurements provide the basis for continuous improvement in the quality of learning, which the NBA ultimately aims.
To conclude…
These outcomes are more like signboards and roadmaps to help the learners reach where they're supposed to reach, and contribute to progress. Education focused on rote learning and scorecards are changed forever. With the introduction of the washington accords, our higher education demands better, intelligent workflows for the sake of improving quality.
As we mentioned at the beginning, this blog is connected to a whole series and an ebook published earlier. You can find links to those here, if you would like to know more about the Washington accord, OBE, and the NBA.
NB: Here's an infographic for you with all the outcomes and their mapping in brief.