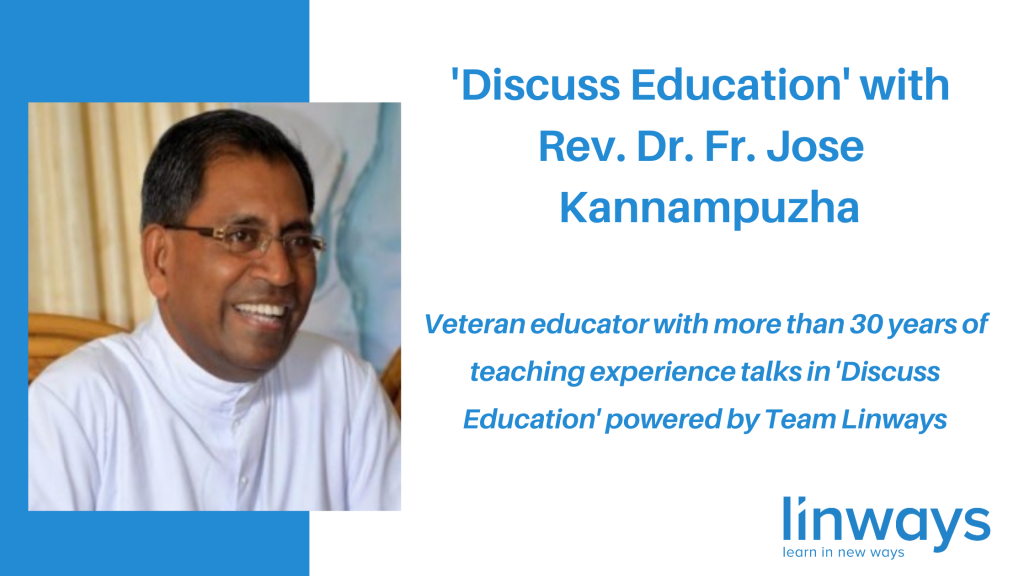 In his teaching career spanning 30 years, Rev. Dr. Fr. Jose Kannampuzha has witnessed different phases of the Indian education system and moulded different generations of students. He has served as both teacher and administrator in various institutions such as Amal Jyothi College of Engineering, Kanjirappally, Kottayam, Sahrdaya Engineering College, Thrissur, etc. and played an important role in making them the big names they are today.

Fr. Jose, who is currently the director of Jyothi Engineering College, Thrissur is the second guest of Discuss Education powered by Linways.

Fr. Jose talks about the changes that needs to be implemented in education, the role of teacher, the focus of education and more.
1.You have played irreplaceable roles in making several reputed educational institutions what they are today. As an academic administrator, what motivated you to upbring these institutions?

Basically, when I was put in charge of the institutions, my idea was to take it to the highest levels possible with every enthusiasm, making use of all the opportunities that was provided, various aspects of that particular institution and looking into the requirements of the stakeholders and also the Government, and basically the requirements of the students. So the focus was mostly on result, which is not simply the university exams alone, but the measurable parameters such as results, placement and human development of the individuals.
Second motivation was the research area, the third was the potential for the students to get new startups with technology development incubations and so on. So these were the areas I put in main focus and a lot of energy. First, university results, placements and human development. Second, research and other activities and third self employment through startups and technology incubations.
2.What should be the prime focus of education in today's world?

As it is known to all, there are three goals of education. One is  cognitive or theoretical knowledge which is delivered through conventional form in all the colleges.
Second is skill development which is not properly achieved in India and especially in Kerala.
And the third is behavioral development which focuses on questions like how to live, how to continue and how to mingle with people?
So these are the three goals of education in all the fields be it arts or science.But in India we don't achieve this. And this is one of the major problems of the present online education system. Online education does justice to the first goal, at least to an extent. But the skill development and behavioral development may not be addressed in the online education system. 
So yes the prime focus of education today must be cognitive knowledge, skill development and behavioral development.


3.Great teachers can never be replaced no matter how far technology advances. As per your opinion What should be the role of a teacher in shaping a student's life?

I already told you the three goals of education. There arises the role of a teacher. Previously the most important role of a teacher was in the first part, that is the cognitive knowledge development. But at the moment the focus may not be that important in that area as far as the role of a teacher is concerned. Because students are given open avenues through new sources of knowledge. Students can access courses and knowledge without the help of a teacher. Even though teachers are irreplaceable, the role of a teacher has come down to certain extent in the first part.
But in skill development and behavioural development, the role of a teacher is still inevitable. That is where the actual role of a teacher arises. Whatever be the development in the technological area, the teacher is an inevitable element in education.



4.As a teacher you have molded different generations of students. From your experience, apart from the conventional methods, what can be introduced in education for the overall development of students?

Everyday there is development in the theoretical aspects in which knowledge is delivered to students. But technology must come to the doorsteps of every student in the form of application of the theory that they have learned. What they have learned has to be converted into action. There used to be a saying among the faculty members, "you publish or you perish." What you learn has to be published. This was but the former case. But now it has gone to "you produce, or you perish." Finally, what you learn must be converted into a product may be tangible or intangible. It can also be behavior sometimes. It can be values you uphold or interaction with people and so many things.

Whatever you learn must not only remain in books, but must be made practical. The present scenario is not fine tuned for that. Even though changes are happening and the New Education Policy is implemented, there is not much focus on this. But in the case of European or developed countries, once you learn something, you put that into practice. But that is not happening with us. Many computer engineers pass out each year, but finally they are looking for some multinational companies so they get their monthly salary. But the fact is many of them are equipped to do something of their own. Not just computer engineers but graduates of any field.

India, from the last 15 years is planning to have 1000 TBIs (Technology Business Incubators) in colleges. TBI is a kind of ecosystem where support is provided for the engineering students and others with new ideas for startups. But there are only less than 100 TBIs implemented. And in Kerala, there are only 3 GST supported TBIs. 

There are so many people with many ideas. But the ecosystem does not support them with the knowledge to start a business. They may be capable of converting their knowledge to products. But that is not all to start a business. There is finance, technology conversion and many more factors to be considered which they may not be aware of. There are people that can help students with all this to start their business, but for fees. If there is a Government system to support them, things would be so different.

This has happened in a big way in China. Because of that they could make lots of industries. This revolutionized the industrial scenario in China. This must have taken place in India. We have the Make In India initiative. But what have we made in India?

Most of the people working in Europe are Indians. Also we have a Mr. Sundar Pichai and Mr. Satya Nadella who are both Indians. But why aren't there people like them in India? Because the system is not robust. That means the ecosystem has not done anything for the people with ideas. The governing system must think about this and a robust ecosystem must be developed so that something creative comes up.


5.As a teacher, what do you think can teachers do to make learning more engaging and fun? In your opinion what can be done to generate enthusiasm in students?

Primarily the problem is not with the students, it is with the teachers. I would give you an example. Let us think of a boy or a girl. He or she is very much interested in mobile phones. He or she can do a lot of things with the mobile phone which even some faculty members cannot do. This shows that the kid is really intelligent and smart. But why is he or she not interested in studies? Because studies are not made as interesting as the mobile phone is. The teaching environment or the teachers could not make it interesting. Primarily the materials that are delivered by the teachers to the students is not a matter of interest for the faculty members.

Let us talk of differential equations of mathematics. The teacher must know what it is, why it is used and how it is applied. Instead of generating it on the board, if the teachers can connect it with real life equations, it will be made interesting. If the teachers can identify real life situations that connect with the lesson, students will never forget it.

In short, the teachers are not passionate about their teaching material. They do not thoroughly know the material. Once they thoroughly know the material and can develop a passion for it then the students will be able to feel it. They will run after the teachers and make them take class.



6.Gaining exposure or scoring high marks, which do you think is more important for a student? Or how can teachers ensure both go hand in hand?

This requires a thorough revolution in the teaching world. First of all we must know that there are multiple intelligences. There is a very famous author, Howard Gardner who proposed the theory that "man has different kinds of intelligence." There are students who can attend classes, reproduce what they learn and score good marks. But that is only one type of intelligence. There are other types of intelligences such as musical intelligence and many more. Can we say M.S. Subbulakshmi and K.J. Yeshudas are not intelligent? Never. They are highly intelligent and their intelligence lies in the musical area.

The system must be so flexible that their passion must be identified and made to follow that. There are people such as Nivin Pauly who pursued his passion for acting after engineering.

I would say there are 7 billion people on earth and each of them are intelligent, but in their own way. A flexible system must be developed to help students to identify their passion and follow that. This cannot be attained by an individual but by the efforts of many.



7.In your experience as an academician, you have witnessed different phases of education. Where do you think the current phase is headed? What will be the future of education?

The changes that happened are positive. For any job, the performance level must be the criteria on which he or she is selected. Only the training can be given through education. There are people with highly valued certificates and no practical knowledge. If people are analysed and measured on qualitative terms such as performance and skills and not on the basis of certificates or degree, then that would be a wonderful change. And that must be the area in which education must move.
Team Linways wholeheartedly thank you Fr. Jose, our beloved Jose Achan, for making out time from your busy schedule for us.
We will come up with more interviews from various educators of India in the coming weeks. 
Come be a part of the Discuss Education community.

 Facebook : https://www.facebook.com/groups/322492732459793/

Linkedin : https://www.linkedin.com/groups/13908564/
.
---
Also published on Medium.