Why does it work so well and how to implement active learning in your classrooms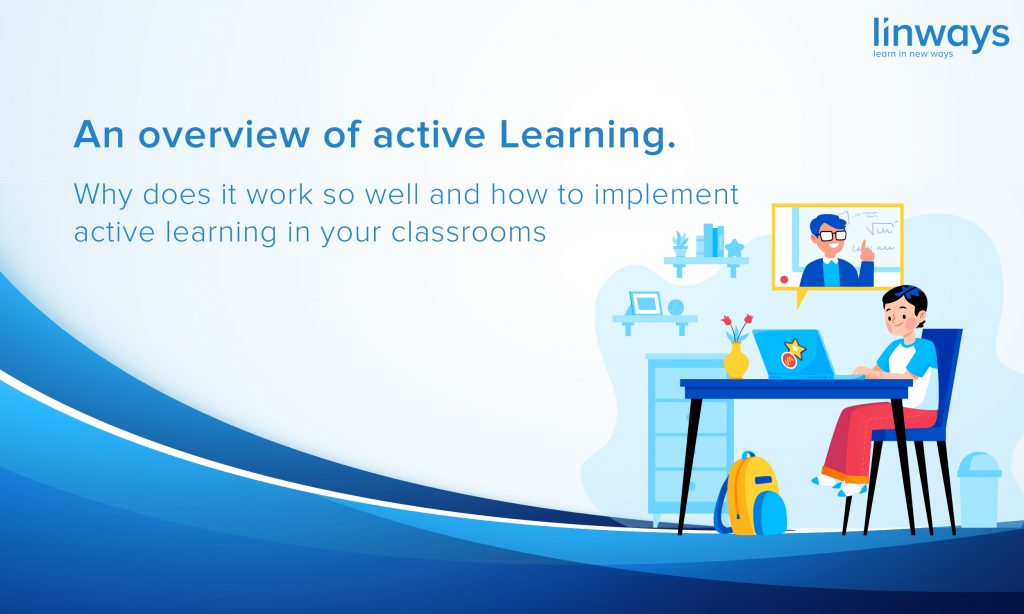 Active learning is an approach in which students are engaged in the learning process. In teaching-learning, there is a lot of importance in keeping the students involved and engaged in the session. The knowledge can be embedded to a greater depth into the brain of students when they actively participate in a class. Active learning is also helpful in building an interesting learning environment in class. It makes each student feel valued and recognized in a classroom. Students also perceive greater knowledge and understanding with active learning.
Dr. Sadiq A, from the TKM college of engineering, spoke about his own experiments with active learning at the Discuss Education BarCamp hosted by Linways Technologies. He explained active learning to be "a form of learning in which teachers undertake the strategy to involve students in the learning process more directly than in other methods".

Different methods for adopting active learning in the classroom.

Class Discussion:
Class discussion is one of the most common strategies that promote active learning. It can be conducted in class as an introduction to a topic or as a review section after concluding a topic. Open-ended discussions always keep students engaged.
Flipped Classroom is a widely used method for implementing the active learning process. The students can experiment and experience with this active learning strategy. The technology in the classroom, or to aid the teaching-learning, helps the teacher to use interactive techniques and provides open-ended problems to solve using what the students have learned. And this would help teachers to assess and correct the errors in the thinking of students.
Quiz:
A quiz is a very powerful method by which we can evaluate the students. It would even add a greater advantage if the students are made to prepare questions for a quiz. Dividing students into pairs and giving them small rewards will also encourage the students to participate more actively. It will also boost confidence in students
Seminars:
Dividing topics among students and assigning them to take seminars will also help to implement active learning in a class. Giving students chances to raise the clarification required and express their viewpoints can also enhance the seminar session.
Debates:
Debates are another active learning technique that develops critical thinking and logical reasoning skills. Debates encourage students to think and explore the topic themselves, and gives them a proper motivation to pursue information.
This, of course, doesn't cover the immense possibilities of active learning techniques a creative teacher can bring to their classroom. To sum up, actual strategies are more founded on how the teacher wishes to engage the students, and to what extend. It also varies based on the topic. So as a teacher, you can use multiple strategies at the same time, or try out a blend of any of these aforementioned ones to land on the perfect fit for you and your students.
Can we implement active learning in an online classroom?

Active learning plays a major role in boosting student engagement in classroom discussions, especially in the online realm. You, as a teacher can help students with a little introduction to the online learning environment. Active learning can be brought to online learning tools with the help of advanced learning tools.
If the objective of a course is to promote long term retention of information, to motivate students toward further learning, to allow students and apply their knowledge to make new innovations, creative learning is the best method that can be brought out to a classroom.
Today's digital learning technology allows instructors to create highly-interactive lessons that can be used as in-class activities, take-home assignments for flipped/blended learning, or a fully-online module/subject/topic.
With the right technology, active learning experiences are highly scalable. They can also meet all the improvement standards while still providing a good experience for learners.
It's always important to note that some activities lend themselves well to interaction from any device — and some don't. If you want to create active learning experiences that are equally wonderful experiences on desktop, tablet, and mobile, you must plan ahead and take into consideration the size, layout, and complexity of your activity.
In advanced platforms like the Linways LMS, teachers can plan ahead using a subject planner and strategize active teaching techniques and the course materials can be given to them in advance using the platform. When course materials are shared beforehand, students will have a basic idea of the topics that are to be taught, and they can research or prepare based on the activity planned.  Using inbuilt feature in Linways AMS to schedule and take live classes, interactive sessions can also be made possible in an online learning environment
---
Also published on Medium.