Beginning with the Linways' roadmap to quality & success for higher educational institutions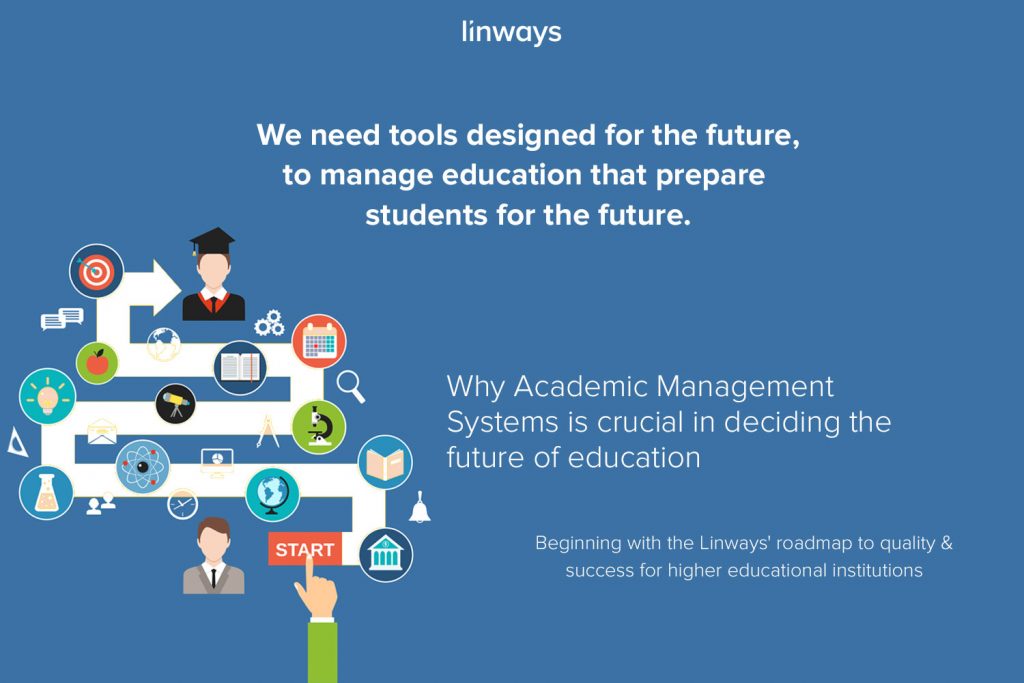 Why Academic Management System
Before we begin, let's make one thing clear: When it comes to education technology, Academic Management Systems are the most effective tool to improve institutional workflow in any environment. Academic institutions are the backbone of our educational system, and they are not going anywhere. Online courses and independent digital course delivery can be very efficient and productive as a supplement; an added advantage. However when it comes to the measurable, interactive classroom learning, no technology can replace teachers. Edtech tools are what educators use to improve the quality and efficiency of the education they provide.

In that sense, what our educational institutions need is a tool to analyse and provide meaningful feedback for the decision makers.
We don't get that from a regular ERP system.
We still need to consider the exclusive features and adaptiveness a learning environment needs. This is why Linways has come up with our Academic Management System. We focus on quality of education and simplifying the daily academic activities through intelligent academic management.
This way, the teachers get more flexibility and freedom to choose the right form of instruction. They can provide individual attention to their students, and the stakeholders can easily gather insightful data from both the administrative and academic aspects.

Why Linways AMS
Linways, working toward a vision to improve the world is learning, understands the pain points and unique requirements of a higher educational institution. We consistently connect with a vast community of teachers to learn more about their problems, and what solutions might be the most productive. Understanding the institutional workflow to lay the foundation, and taking requirements from the academic community has helped us to create a beautiful solution that can truly help higher educational institutions.

Linways focuses primarily on academics. Because that's where it truly matters. Our workflows, learning paradigms, course management etc. are developed with the quality of education in mind. However, a successful solution cannot merely provide core academic-related features, and hope to let everything fall in place. We also need to integrate administration into the workflow. If the academics is the foundation, administration is like the pillars that holds the structure strong. We need the pillars in order to grow. From the perspective of successful institutions, one does not exist without the other. The college need both the academics and the administration to coexist in order to function properly.

This is why Linways AMS introduces intuitive workflows to reduce the workload of teachers and management. Our intelligent design helps any institutions to create their own workflows to suit their specific and unique environment. By taking away the unnecessary tasks that takes up most of the time and simplifying them through technology, we open up a space to quality assurance from every level. With Linways AMS, teachers can focus on their students, and find ways to improve learning. They can even implement nuanced learning practises like Outcome Based Education and Bloom's taxonomy in their classrooms. This would have been impossible in a traditional classroom environment because of the daily tasks like report generation, attendance marking, batch management, etc. that takes too much of their time.

The institutional management can also bring up innovative strategies and quality-based assessments to measure and analyse performance. Results, through Linways AMS, give a much more wider perspective for the decision makers. It includes outcome attainment, custom data structures, and unique conditions that allows them to draw deeper insights from otherwise shallow data points.

We have already discussed some features and modules specifically that help teachers and institutions to assure quality and improve learning in some of our previous blogs. You can check them out here.

Why now
The world is changing. To be more precise, the world around education is becoming more technology integrated. Academics is becoming more quality centered instead of quality. Measurements are based around student performances and predefined outcomes. Employability is addressed in every level, and research is encouraged.

In a world that is highly technology integrated, education cannot stand alone to rely upon the traditional tools to achieve better results. We must always move forward, and education is where we should begin. We are essentially teaching the students for a world and industry that is not even here yet. The world is changing with innovation and research being done on almost every field on a rapid pace. So, we cannot improve our education domain with tools that aren't consistent with future we are heading towards.
We need tools designed for the future, to manage education that prepare students for the future.

This is why adaptive Academic Management System like Linways is relevant now more than ever. We understand that no education technology could ever replace a teacher's intuition, experience, and personal care toward the learner. So Linways has built a platform to empower our teachers, and help the academic institutions to improve the way we learn. This blog may not be merely enough to get the full picture but we have also written a lot more about education technology, the future of education, learning theories, and of course, linways AMS. So check out the rest of our bogs, and please subscribe to get the latest updates and news of education, technology, learning science and teaching-learning.

---
Also published on Medium.