5 creative methods of assessment in online learning.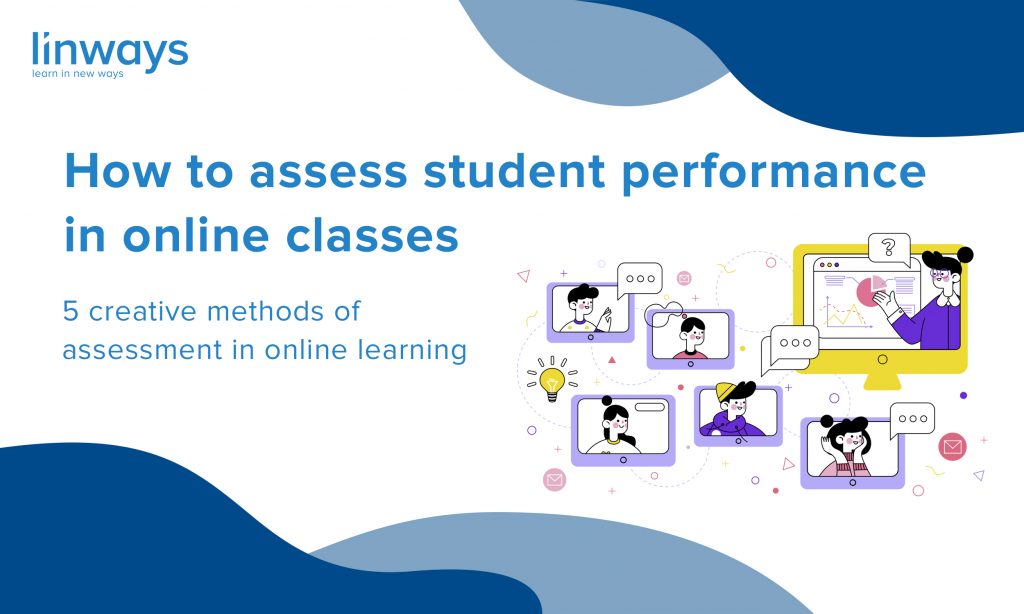 As online learning is becoming to be the new normal in education, we need to equip ourselves with the right tools, techniques, and information to deal with all aspects of teaching-learning. In order to be prepared, here's a helpful article for teachers on assessment techniques to measure student performance in online classes.
Before we begin, there's something we need to get in order. In any online learning environment, the tools which you use to teach and assess is very crucial. When a great platform, properly implemented, does wonder for the workflow and energy of the teachers and other staff.
A great assessment platform should not be a standalone tool, but an immersive one that gives feedback at all stages of the learning process.
Before we begin, we have previously written about choosing the right technology platform for higher education institutions which is more focused on the tools that are available. So if you want to learn more about the types of solution platforms that can help you run your institution, we suggest you head over there.
So let's look at some assessment techniques that are particularly useful for online learning.
Learning outcomes and mapping
Outcome-Based Education (OBE) is a widely accepted technique in education. OBE is a learning paradigm that focuses on the outcomes or goals instead of results. Once the institution or teacher sets certain outcomes that would accurately reflect the student's learning, these outcomes are then mapped with the assessments to measure them.

So with a proper tool, like Linways LMS, these outcomes will give a very insightful overview of what the student has learned, how much, and which areas in teaching or curriculum were not effectively transferred. Based on these insights, the teacher or the department can take necessary steps to ensure the students follow along throughout the course and achieve the goals they should. Its a continuous process and a very efficient one in online learning since the teacher's interaction with the student is limited as compared to physical classrooms.

Online quizzes
When it comes to actual assessment techniques, online quizzes are the more obvious. Though they cannot completely replace conventional exams, they are almost as effective as they are. It helps if your institution has a complete learning management platform because using a tool for quizzes alone can be tedious, and they often doesn't translate well into other aspects of teaching-learning.

There are multiple ways you could use a regular quiz to assess various aspects of student performance. They could easily replace a class test, or can be used as a review mechanism to help go through earlier topics. You can also use quizzes to engage students with out-of-the-box or open-ended questions to encourage parallel reading.

Discussion forums
Online discussions are a proven method to both engage and assess students in online classes. Flip-Class based group quiz, debates, etc. are efficient techniques to measure the understanding of your students on the topic. They also give you an added advantage to getting students involved in the learning process because of the high-levels of engagement.

An online discussion on a defined topic is the perfect opportunity for the whole class to come together and interact as they are in a classroom. Students will often take initiatives and learn themselves and peer-to-peer learning happens in such environments. You, as a teacher could give credits, points, or special incentives to students or team who would perform well to give a competitive edge, and thereby a boost to the learning process.

Assignments
Assignments are one of the existing assessment methods that translate well into the online classroom. The only difference would be that assignments would be given, and received via online.

Again, having a great tool to give out the assignment, and a window for the students to submit, is crucial for this. With a tool like Linways to assist you, teachers can even view the assignment, evaluate them, and assign grades from within the same platform, and it will be reflected on the students' mark sheet instantly.

Open-ended questions
We did mention open-ended questions in the quizzes section, but this essentially is an assessment technique in and on itself. In traditional pen & paper exams, there's always a limit to exploring the curriculum beyond a certain point. But when the class shifts to online, that limit gets thinner. Open-ended questions are those to which there's no one specific answer. The answer may be a solution to a real-world problem or a scenario. Or it could be a workaround that eliminates the problem itself. Anyhow, the answer only depends on what the student has learned, and how much he/she's willing to research.

In practical terms, you, the teacher, could give open-ended questions and tell the students to find the answers. Each student's answer will be different based on their own perspective, depth of knowledge on the subject matter, and their attitude. This will give you a very solid idea of what each student makes of the topic. So you can redefine your teaching style if needed too.
At the end of the day, it all comes down to you, the teacher, on how to evaluate your students. After all, assessments are a series of measurements that use various methods and techniques, to collect data on student learning in order to refine teaching programs and improve student learning capabilities. The term "assessment" is so broadly defined because it needs to include any outcome or goal in any activity or discipline that can be a part of this process
But this doesn't overlook the fact that any efficient assessment technique in online learning needs a proper tool to assist the teacher. It doesn't matter how great the assessment is, without a platform or tool to make it work, it could be a failure. That's where complete learning management platforms like Linways comes in. It's a one-stop solution for managing the entire academics and assessments.

OBE is fully integrated into the workflow of Linways LMS, so creating and tracking outcomes feel natural. Linways has a full-fledged online quiz where the teacher can add questions from question banks to create the quiz. The results are instantly available for the teacher, and they can publish it on the platform. All the results will be reflected on the student's mark sheet right away. You can also host engaging discussion forums with Linways.
---
Also published on Medium.