A deeper understanding of learning techniques and how to implement them.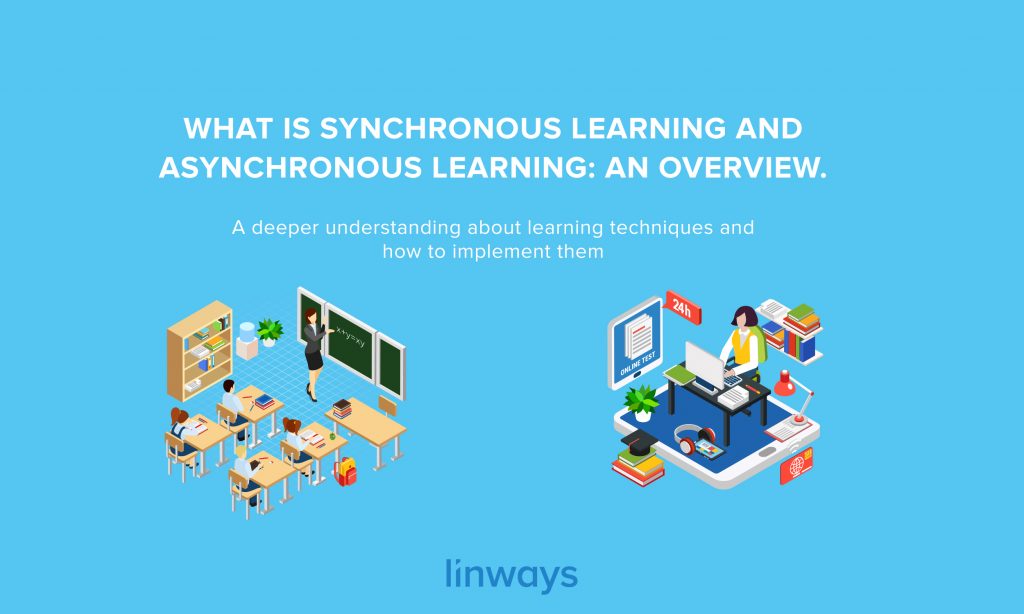 Online Education has brought incredible transformations to the world of education. It has only changed the learning environment not only for students but also for teachers. Teachers are now amped up with powerful tools for course delivery which will help to impart knowledge to learners in an efficient pattern. In the course delivery system prior to the selection of a tool the instructor and student should decide whether synchronous or asynchronous learning is an effective method to support their course.

Depending on the course objective both synchronous and asynchronous can be useful for the learners with the varying topics in the curriculum. So before choosing a method, let`s have a look at the two methods.

What is Synchronous Learning?

Synchronous learning occurs when learners and instructors are interacting in real-time, typically through delivery platforms, distance learning technologies such as video conferencing, discussion form and community chat, or collaboration and social learning technologies. Although learning occurs at the same time, learners don't have to be there in person, or even in the same location
Our conventional classroom is a classic example of this. With the space provided for interaction and participation, the lectures become more understandable among students. Also, teachers can give explanations with real-world examples and encourage the students to adopt effective learning mechanisms.

The main benefit of synchronous learning is that it encourages learning mentality in students through peer interactions since they are in communication with each other throughout the learning process. So when it comes to online learning, engaging students in an organized platform stands as a great challenge for teachers.

When put into action, synchronous learning will not be flexible in terms of time. Students and teachers would have to set aside a specific time slot in order to attend a live teaching session or online course in real-time. So it may not be ideal for everyone to adhere to a specific training schedule. There comes the need for asynchronous learning.

Pros of Synchronous Learning

Group Activities can be included.
Ideas and opinions can be shared with co-learners.
Doubts can be clarified instantaneously
Cons of Synchronous Learning

Lack of flexibility in schedules.
Emphasis is given on a group than an individual.
Increased dependency on Instructors.
What is Asynchronous Learning?

Asynchronous learning is an instructional design and delivery methodology that allows students to access content or participate in learning outside of the classroom and at their convenience. The asynchronous method is more learner-centered, enabling learners to complete courses without the constraints of having to be in a certain place at a time. As long as the student has access to the coursewares, the asynchronous learning environment helps students to learn at their own pace. These materials can be accessed by the students as per their necessity
With asynchronous learning, the students have significantly more time to reflect on the content material they are learning. Also, it helps teachers to have a great work-life balance and they can spend more time preparing the right course materials.

If Asynchronous Learning takes place without proper planning, the deliverance of course, turns to be a very tedious process also the student will find great difficulty in finding the right course materials and to follow the syllabus. So asynchronous learning often requires a well structured Academic Management System
However, those who lack the motivation to do the coursework on their own may find that they do not receive significant benefit from asynchronous learning. Asynchronous learning can also lead to feelings of isolation, as there is no real interactive educational environment.

Pros of Asynchronous Learning

No time constraints.
Learn at your own pace.
Promotes learning from vast resources.
Cons of Asynchronous Learning

Lacks personal interaction.
It can cause a lack of motivation.
Limited access to instructor.
Synchronous vs Asynchronous Learning: Which one you should choose?

Synchronous Learning
Asynchronous Learning
Involves interaction with teachers and fellow learners.
Students learn at their own pace.
Demonstration and
co-development of ideas.
Promotes self-learning ability in
students.
Ability to ask questions on topics
immediately.
More time to reflect on and
understand the course material.
Inflexible learning schedule.
Answers and feedback are not
given immediately.
Lack of individual attention.
Contact with teacher and
classmates are less.
The quality of understanding of
course material depends on the
instructor.
The learner must be self-disciplined and focused to complete the
work.
There are several factors to be considered before choosing Asynchronous or Synchronous Learning. The factors include course curriculum, learning objectives, and of course the interest of learners. Each of these methods when used independently has got it's own pros and cons. So ultimately the better solution is to adopt a combination of the two methodologies
For example, Flipped learning, can be considered as a combination of both asynchronous and synchronous learning. It will ensure that the students get a precise idea of topics and motivate them to adopt a self-learning culture
Role of Technology in Blending Synchronous and Asynchronous Learning

For the course delivery using synchronous and asynchronous learning methods in a combined form, adopting an independent learning platform is very essential. With the proper use of such tools all the actions that take place during the learning process can be properly tracked and centralized. At the same time, for a subject that requires only asynchronous learning, proper course material delivery and storage mechanism should be available. Along with that to bring up a uniformity in syllabus coverage among students, a subject planning mechanism will also turn out to be highly effective
Linways AMS, with its virtual institution management features, is equipped to support the varying needs for online course delivery and it helps to keep track of the learning outcomes. With Linways, institutions can define courses and batches, teachers can manage their daily routine tasks, and students can actively engage with their teachers. So with such an adaptive workflow that suits all kinds of learning atmospheres, Linways helps institutions to implement both synchronous and asynchronous learning techniques in their classrooms. 
---
Also published on Medium.