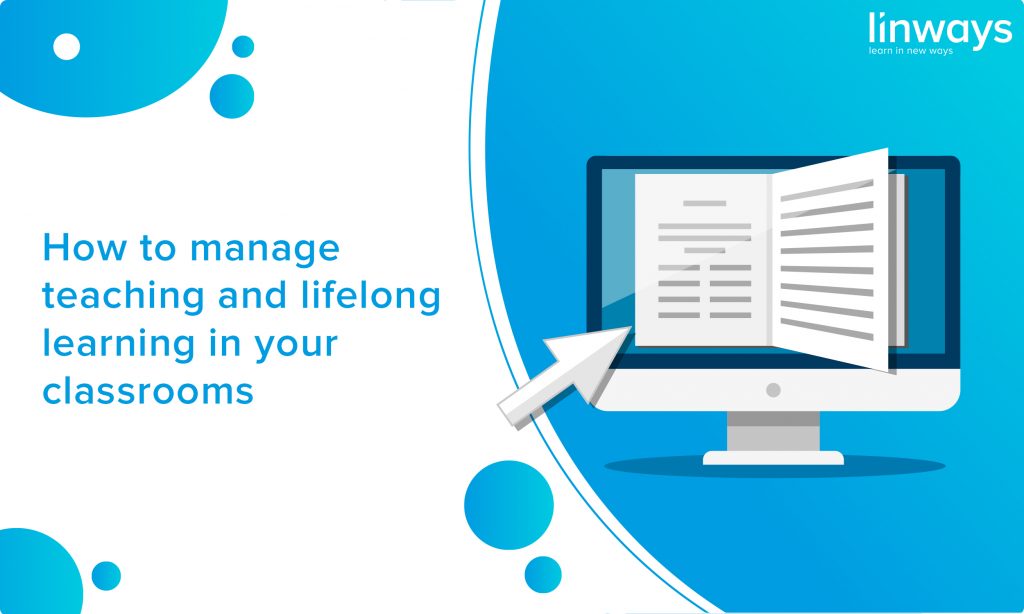 Every teacher should be allowed a space for themselves where they could grow, and offer productive, creative inputs to their teaching model so as to improve the lives of themselves as well as their students. This is particularly important as we are going through an era-defining phase shift in education as many key elements are shifting. Student demographics, technology integration, elements of curriculum, assessments, etc. are all being redefined as we speak. This brings us to a unique, yet crucial, problem we've witnessed all around the education domain: How are our teachers supposed to manage the classroom, administration, and the academics while contributing to a positive development of the overall education.
This is a problem for all teachers, everywhere around the world. Everywhere we've interacted with teachers, they all face this same issue. Linways, working on a vision to improve the way we learn, have decided to do some initial research, and here's what we've found that might help.
Some skills that can help you to manage teaching are:
Build relationships
Creating healthy relationships with your colleagues, students, and parents are very effective ways to reduce your own stress and improve work satisfaction. Being in touch with students will give you great insights into how you can manage the classroom and how to inspire your students to perform better. Being in a teacher's community, and widening your circle can bring wonderful solutions that you might not have even imagined along your way.
Encourage, inspire.
Your students are one of the biggest factors that make or breaks your time. As you build positive relationships, your message becomes easier to get across. Teaching will become easier for you, and learning will become easier for your students.
Maintain authority
As a teacher, you are in charge. It all comes down to you to lead that bunch of students to their destination. You don't have to be mean, you just have to mean it when you communicate. And speaking of communication,
Communicate with your students what your rules mean.
Share your plan, or at least a synopsis of it. This will help your students to understand what to expect, and why you do it. This also goes along with sharing learning outcomes to improve student understanding of the learning processes.
Accommodate all learners.
Be student-centric. Students have the same need for the curriculum to be presented in a context that's meaningful to them. Being student-centric and including every student in your teaching plan is a highly important teaching skill for the future. Remember to design lessons that challenge everyone in the way they need to be challenged.
We've come up with a list of guidelines for lifelong learning. These guidelines are for teachers who are genuinely interested in the well-being of their students and want to instill a lifelong learning attitude in them to see them succeed. You can use these guidelines to draw out your own unique workflows and plans to prepare your students for continuous lifelong learning.
Start with the outcomes
As we mentioned earlier in this article, Outcome Based Education, or OBE, is a very effective methodology to improve the quality of education. The NBA, NAAC, and several other certification and accreditation agencies strongly advocates the OBE model for our higher education. It's essentially deciding a set of skills, goals, or 'outcomes' that you want your students to achieve, and then assessing performance and knowledge along the course so that your students eventually achieve them.

With OBE, you give the learner a goal to achieve. So learning becomes a journey, instead of a task. It's much easier to do if there's a goal at the end, and if that end entices the learner. This way, even after the student has left the college or school, they understand the value of learning, the results they'd get, and the fact that they need to learn if they need to get ahead.


It's not about what you teach, it's about how you teach
Every subject and topic has a unique way to approach it. You can't teach a student to swim by showing them pictures of a man swimming. This goes across the field of formal education. How you choose to teach influences how the learner understands the topic, and retain the information. There are several ways you learn how to teach, and be really good at it.

If the teacher could get the learner to be excited about learning, it greatly influences their attitude towards learning. Humans are naturally curious. Learning and sharing information at this enormous scale is what makes us unique. So to master the craft, teachers and decision-makers need to assess and learn about how students react to the teaching-learning process. The use of the right tools and self-evaluation can be really effective.


Use technology to your advantage
Take the help of technology to improve your planning and course delivery. There are many tools and platforms available today to help you encourage students to keep learning. You could teach them about online courses like Coursera, Udemy, EdX, etc. and tell them about how they can make intelligent use of those resources to keep learning.

It would most certainly help if you can begin delivering course content through Academic Management platforms like Linways even during the course. This way, your students get to know what to expect and get familiar with the concept of learning outside the classroom during when they are in college.


Encourage learning outside class
Boost the curiosity of your students by encouraging out-of-the-class learning activities. Persuade them to conduct research and study papers published by others to teach the value of independent learning. Instead of a teacher pouring all the information in a class and the learner being told to learn it without any actual creative input can be dull. Research and outside learning is a great way to teach students about the benefits and advantages of lifelong learning.


Be a role model
This, of course, is the most important part. There has been a tremendous amount of research done on teacher-student relationships and how it influences the learner. A well-liked teacher is more likely to bring out the best performance, and students will listen to what you have to tell, both verbally, and otherwise.

A teacher should definitely be a lifelong learner. So guess it's not necessary for us to tell teachers to lead by example. However, even if you learn throughout your life, and conduct extensive research, you should also be able to instill the same character in your students and make them pursue the same with their lives.
Let's look at some effective teaching techniques for online classrooms that can help you improve the quality of teaching-learning.
Flipped classroom
Instead of lecturing for long hours and merely delivering the information, the course content is delivered online and the classroom is used for diving deeper into the curriculum facilitating the knowledge they have using experiments, projects, and peer-to-peer interactions.

This works best online. Teachers can deliver the course content through learning management systems and join with the students through live calls or discussion forums to engage them in the topic. This is a self-driven approach where the student learns about the topic themselves.


Synchronous and asynchronous learning
Synchronous learning occurs when learners and instructors are interacting in real-time, typically through delivery platforms, distance learning technologies such as video conferencing, discussion form and community chat, or collaboration and social learning technologies. Although learning occurs at the same time, learners don't have to be there in person, or even in the same location.

Asynchronous learning is an instructional design and delivery methodology that allows students to access content or participate in learning outside of the classroom and at their convenience. The asynchronous method is more learner-centered, enabling learners to complete courses without the constraints of having to be in a certain place at a time.


Discussions and debates
Online discussions and debates in the classrooms can be a very effective teaching technique for online classrooms. Here's how it typically works: the students are given the topic, and the teacher monitors the discussion/debate as a moderator while the students lead the interaction. It's highly efficient because such student-driven activities motivates self-learning attitude in students, and the teacher can focus on directing them in the right path.

We have previously written about such a flip-class based group quiz from a practical perspective in an article based on a discussion from Discussion Education BarCamp. You can check it out here.


Problem-based Learning
Project-based learning is a teaching method in which the students learn by actively engaging in real-world and personally meaningful projects. In Project Based Learning, teachers make learning come alive for students.

In online classes, teachers can drive student engagement and peer-learning experience by giving projects and assignments where students learn from solving real-world problems and creating ingenious solutions.


Content delivery in various formats.
Online classes are a great way to test the efficiency and engagement of your teaching styles. As you and the students are not in a physical classroom, course materials and content are often shared through learning management systems or by other digital means.

So try out different modes of content delivery in the form of videos, online articles, links to external sources of information, images, infographics, books, etc. This will keep the learning experience fresh, and the search and finding of course contents will lead to a greater understanding of the topic for the students. It also boost peer-to-peer learning as students collaborate to find out the content from other sources. You can test which mode of content delivery works best with your students and modify your strategies accordingly.
However, in the end, it all comes down to how you want to treat your classroom and students. The best approach is almost always what the teacher finds from hands-on experience. These teaching techniques for online classes can help you expand your limits and open up new possibilities in improving the quality of teaching, enhancing the learning experience, and boosting student engagement in your online classroom.
---
Also published on Medium.