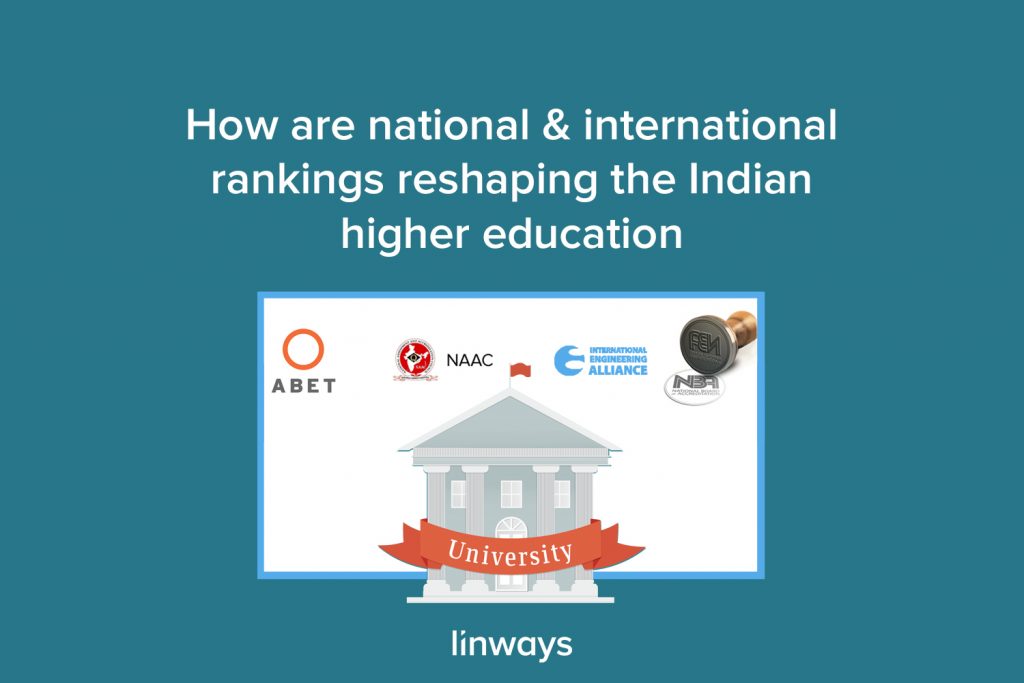 Accreditation to be made mandatory for all universities, colleges, says the UGC


This is news from a few years ago.
---
A 10-point ambitious growth and reform plan for Indian Universities has been presented at an event in New Delhi to enable them to achieve global rankings.


This is from Oct 15, 2019.
---
Setting up of accreditation systems and bodies at the national and international level to rank and recognize Universities and Institutions for meeting the minimum acceptable standards through inspection and assessment has taken top priority amongst the national policymakers as Education takes a center stage in today's world.


This is from an article published on Oct 15, 2019.
---
What do these have in common?
It's obvious. The quality assurance in education is more serious than ever, and not just for high-ranking universities or countries, but everywhere across the globe. It points towards a trend that's set in the education sector that prioritizes quality over quantity and student-centric education over teacher-based.

Global rankings have emerged as a dominant way of measuring their performance. There is a serious debate on the need for Indian universities to be in the top 200 universities of the world and the urgency of seeking reforms that will pave the way for promoting excellence in higher education and research.
It is crucial that our Indian universities embrace the international rankings framework as well as domestic accreditation processes in order to compete with other world-class universities from across the world.

As we have seen in the case of the Washington Accord and the NBA accreditation, the international ranking systems are already influencing the quality assurance and accountability of our higher education sector. As more and more government policies are being brought to practice focusing on quality assurance systems and academic standards, the academic community should actively enter debates about the assessments, academic standards, and the design framework of our colleges and universities.

Since the value of an international accreditation assures accountability and inspire trust among the stakeholders, it is also a great way to make sure that our institutions stay relevant even during the highly shifting 21st-century landscape.

On the other hand, there are also some results that point towards the immense potential which our education domain has in its reserve.  
Bengaluru was one of the most student-friendly cities for higher education according to a recent survey by the 'QS Best Student Cities Ranking'. It was compiled by global education consultancy QS Quacquarelli Symonds according to which, India's best student city is Bangalore (81st), followed by Mumbai (85th). Delhi is at 113 and Chennai at 115 out of a total of 120 cities ranked in the list. Though there's plenty of room to improve, it's still great news for us. Students from across the world should begin seeing India as a viable and considerable higher education destination.

Also, India has significantly risen in "The Times Higher Education World University Rankings 2020", with 56 institutions making it to the list, up from 49 previously. Now we have to keep these results and outperform them or risk declining further amid increasing global competition, especially from other parts of Asia.
What does investing in global and Indian ranking and accreditation mean for our institutions/universities?

Accreditation and rankings are essentially quality benchmarks that signify many aspects of standards concerning expected norms and other colleges/universities. So rankings/grades help to boot both the visibility and reputation of the institution.

These help to gain trust and popularity among stakeholders including students, parents, and teachers. The better rank/grade your university/institution has, the more students are attracted to it. Also, competing for national and international recognition automatically helps improve education standards and quality.

The accreditation from signatory bodies like the NBA helps institutions to benefit from international student migration and global reach. Washington accord boosts student transfers across NBA accredited institutions on a global stage. Imagine the output it could have on our institutions and students.

If you would like to know more about the Indian accreditation standards like the NBA and NAAC, check out our blog series on those:
---
---
---
---
Also published on Medium.