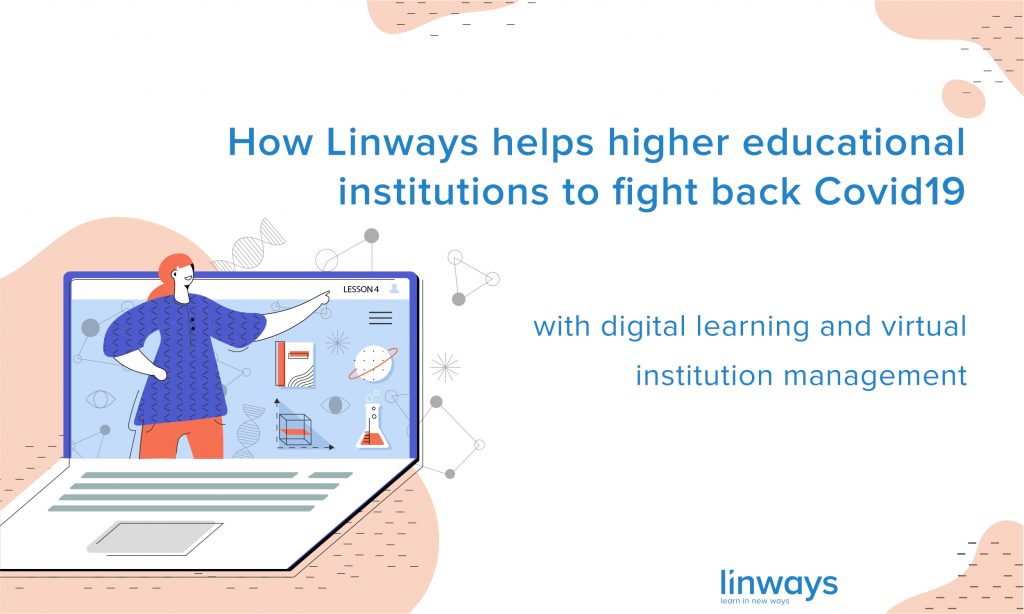 Linways has been in the education industry for over 10 years and every day during that decade has been about improving the way we learn. Our platforms for institutions to help them manage academics and run their institution virtually has been amazingly successful in terms of customer feedback.

Since the COVID 19 pandemic, schools and universities have shut down to fight the spread of infection. The best thing we can do is to stay home and support the experts doing their work without spreading the virus any further. This unprecedented threat to our society is causing a drastic impact on our daily lives, and education hasn't been immune.

Students missing out on valuable education, teachers unable to continue educating, and institutions being locked down and the education system is at a standstill. However, there has been impressive progress in digital technology helping out education to move forward, and continue teaching-learning online.

Linways has been at the forefront of this drift. Our academic management system, or the AMS, is a platform that's equipped to cater to every need of an institution digitally. Our customers have been making use of our platform to manage activities of the institution, and continue with their teaching-learning even during the COVID 19 lockdown. It really amazing and inspiring for us to see that our platform is helping teachers and students to fight the coronavirus and still manage to learn from the safety of their homes.

Here's how Linways helps higher educational institutions to run their campuses virtually.
Subject community
Linways AMS treats the subject as a community and the teacher as a moderator who leads that community. The teacher when selecting a batch he/she teaches is like entering the classroom where they can see all the students in that batch. From there, every relevant data metrics related to that batch can be accessed including attendance records, performance graphs, etc.

Subject planning
We've previously written about planning and strategy in education. Each subject needs to be properly planned, and that plan needs to be tracked along the course. So Linways provides a subject planner module that helps teachers to create a subject plan before beginning the course, and even upload course materials along with it. The students can view those subject plans relevant to them from their own accounts. So there's transparency and outcome-based structure in the learning process.

Share course materials and upload course-related videos or lectures
Online learning is a blended approach. It's where we use technology to assist teaching-learning. So sharing course-related files, taking lectures online, etc. should also be integrated into the platform simply to improve the learning experience, if not for the efficiency. With the document repository and digital library equipped in Linways, teachers can upload course-related documents and share course-related videos or lectures to their video lectures or other help files. All of these will be well organized and available within the platform.

Communication module
The message box inside the learning management system will help teachers to communicate with their students and send important messages. Our mobile platform is also equipped with push notifications to alert students about such updates from time to time.

Assess student performance
Assessments are a crucial element in the learning process. Linways has a full-fledged assessment module to help institutions to manage all their assessment activities from one place. Teachers can give assignments through the system and students can submit them from their accounts. Teachers can then assess them and assign marks or grades without having to leave the platform. There are also advanced features like question paper generation with a question bank to assist teachers in the process. They can create quizzes and notify students about the time to attend, and students can then attend them from their accounts. The results will be readily available and they can be published through the platform itself. All in all, the entire assessment can be done very easily through the platform.

Maintain a clear hierarchy
All institutions run based on a management structure. And when there's a management, there also has to be some sort of hierarchy to define roles and responsibilities. Linways supports various academic roles with clear privileges to help with the smooth management. Roles such as Principal, system admin, HoD, tutor, mentor, faculty, exam controller, etc. make it easy for institutions to adapt to the Linways digital learning platform.

Based on what we have seen with the COVID 19 so far, it's obvious that education won't be the same after this. Adopting technology to assist teaching-learning will be the norm. However, the crucial element to remember is the type to edtech that you should integrate with. Because sometimes a mere online course platform may not be enough to maintain the whole structure and sustain the model. We also need tools or platforms that are powerful enough to help run entire institutions virtually.

---
Also published on Medium.