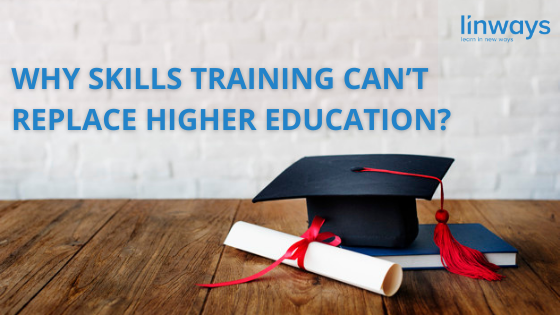 There has been a lot of heated arguments prevailing around the topic
"Which is the best-suited educational pathway for making a learner employable or industrially skilled.? "

And based on the topic there was an article recently published by Harvard Business Review.

"Why Skills Training Can't Replace Higher Education.?"
The title itself mentions that Skill Training can never be a substitute for higher education.
Let`s have a look at both the facets and see how we can make both the educational pathways go hand in hand and provide a larger benefit to the learners.

In simple terms Skills training and Higher Education can be explained as :

Skills Training is the process of learning for a job or industry-specific skills and it is usually done in a short period of time. Whereas Higher Education is education beyond secondary education which is typically done through college or university.
On choosing either of the pathways we know that ultimately it leads the learner to an employment sector. But considering the duration of the course, the financial aspect of studies, there has been an observation that some of the students prefer to choose short term vocational training for an immediate employment opportunity.

But will skills training be helpful for long-term employment goals?

In the Skills training sector, students are provided the training only about a particular technology or a course. Skills training offers learners practical skills, which makes it easier for employers to identify competent and ready-to-work applicants. Such candidates will only be able to satisfy the current industrial need unless they continue to re-train themselves with new skills with the changing demands in the workplace.

When coming to the 21st-century workplace scenarios, many of the business leaders
tends to prefer candidates who cannot only do today`s work but who will be able to continuously learn and contribute to the changing social needs.

"What they need are applicants who can learn their own in real-time to do tomorrow's work and even for the jobs that have not yet been invented."

In higher education, always the prime focus is given to holistic development, it helps students in engaging in various activities that involve physical, emotional, social, spiritual, and intellectual aspects. Only when basic knowledge and concepts and skills are imparted to students they will be able to make new inventions and creative ideas. Holistic education proves to have a greater impact on building up innovative skills and help the students in adapting to challenging work environments and culture.
We have observed so many changes all around the world during the outbreak of the
COVID -19 pandemic. The major one was the transformation in operations and work culture of organizations and their way of switching the production and focus for the need of the hour.
The primary focus of all industries and the healthcare sector was on
"What should be done for the current situation and for the future social needs.?"

At that point in time, practicing the conventional methods and moving with the existing vision would not have ended being useful for anyone. So the insightful workers in every sector built their own resilience, brainstormed new ideas, and mechanisms and then collectively worked towards its implementation to tackle the challenging situations. And as a significant outcome of all the workforce, all the needs of society were satisfied in the New Normal. This scenario clearly depicts the need for innovative and critical thinking skills in a person rather than being solely an expert in any specific field.

We have known since time immemorial that there are no shortcuts to nurture intrapersonal skills, analytical skills, critical thinking, and social skills. It can only be developed through proper exposure, evaluation of competitive ideas, and feedback from the teachers and from fellow students. The guidance that a student receives from their teacher from the peer groups in higher education is invaluable and there has been no substitute ever found for that.

"So always the most suitable solution rather than creating a disparity between higher education and skills training is to include additional skill acquisition program, certificate program, and industry-oriented training in the course curriculum of the higher education system."

This helps in creating a blended approach in the education system. Many of the universities have already implemented mandatory industrial training and internship programs for students during their period of study. This helps students have a better idea of how they can utilize their knowledge in practical scenarios. They can also find their weaknesses and work intensively towards them with the proper guidance of their teachers. Thus through higher education students can be made industrially skilled and socially responsible.
---
Also published on Medium.