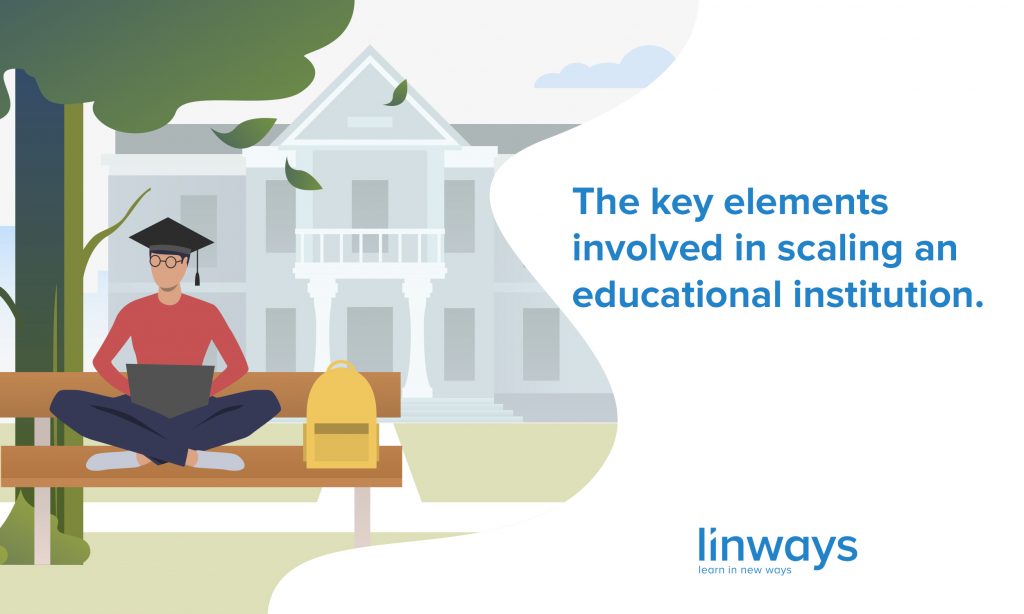 Scaling an educational institution is about finding the optimized workflows and boosting the productivity of teachers and other non-teaching staff. Here's why you should have a scalable workflow in your institution,
You can cater to a larger number of students with a better education.
Make room for quality assessment and improvement.
Stay relevant through the future transitions of education and student demographics.
Check out this previous blog on scaling the teaching-learning. So let's see the key elements involved in scaling an educational institution.
Element 1: Planning
Planning is key to all scalable environments. From a management perspective, you must know what your teachers are going to teach at a particular time, and when are they going to complete a specific topic.
This helps to distribute tasks and responsibilities across your teachers. If a particular teacher is already swamped up with lots of topics to cover, it may not be ideal to assign them the responsibilities to an extracurricular even because they may not be able to manage everything at the same time. So in order to help institutions take control of what gets done and when Linways LMS has brought a subject planner and calendar for teachers.
This acts as a task sheet that instantly gives you what your teachers are planning to complete on a given day. So institutions can easily redistribute the works across in a way that no teacher should work harder with the unnecessary workload.

Element 2: Creation
Another major key element in scalability is how you process the information and feedback. At any given time, an institution may have many types of information related to academics, operations, finances, etc. coming in.
So to make sure that you won't be bombarded with a lot of information, store it in a way that it's easily accessible. We often see office staff and teachers going through piles of files on a frenzy trying to fish out the needed data.
If you already have an optimized platform like Linways LMS in your institution, you can easily find the required resources in an instant with a few clicks. And they can also be exported into other formats as you like it. This instant availability of relevant information makes scaling easier.

Element 3: Feedback and improvement
For any scalable model, you need consistent feedback and a system for course correction. So to help institutions to find their perfect scalable model of operations, Linways LMS helps with a full-fledged feedback module. Teachers can give feedback on their students, students can provide feedback on their teachers, the infrastructure, etc. This helps the institutions to easily find which areas need improvement, and easily correct them.
Element 4: Education technology.
As of today, online education seems to be here to stay. It has become the new normal, and new teaching techniques like online learning, flipped classroom, etc. are gaining traction from within our conventional model. So to stay up with the current trends, institutions also need to adopt more online education solutions.
Apart from staying relevant, these solutions are often more scalable because it overcomes the physical barriers of student-teacher interaction. Though the verdict is still not out on whether face-to-face interaction wins over online teaching, students are far more likely to attend online classes because of the personalized and familiar environment. In Linways, you get a full-fledged academic management system that allows you to manage and try out any type of teaching-learning techniques.
It also allows you to take control of students and faculty data, attendance, lesson plans, curriculum, outcomes, assessments, assignments, and more. 

Element 5: Communication. 
Another important element is making sure that your education institution has a scalable model is a rate with which communication is passed on. You definitely need an institution-wide common platform that follows the hierarchy.
Try to make sure that there are no blocks along the way & relevant data reaches where it needs to be at the right time. There are options like to a WhatsApp or texting tool for internal purposes or a campus management platform where all the other features are available along with communication facilities which allow the institutional hierarchy so that everything functions smoothly.
So there you have it.
We have seen some key elements for making sure that your institution has a scalable workflow. The right approach should be based on your specific environment which takes into account the number of students, nature of your daily tasks, type of education you provide, social and cultural backgrounds of your students and teachers, your institutional goals, etc. anywho, having a complete campus management platform like Linways could help to reduce the workload, save time, and easily manage the complete institution from one spot instead of managing multiple platforms for multiple purposes.
It's an all-in-one platform that seamlessly integrates every academics workflow from admissions, fee collection, academics, departments, batches, custom-tailored curriculum, assessments, report generation, resource management, digital library, and document repository. So check out this link to learn more about Linways. Or if you are interested to read more articles like this one to learn more, you can subscribe here, and we'll send out the latest blogs to your inbox every week.
---
Also published on Medium.