A prologue on how to manage academic institutions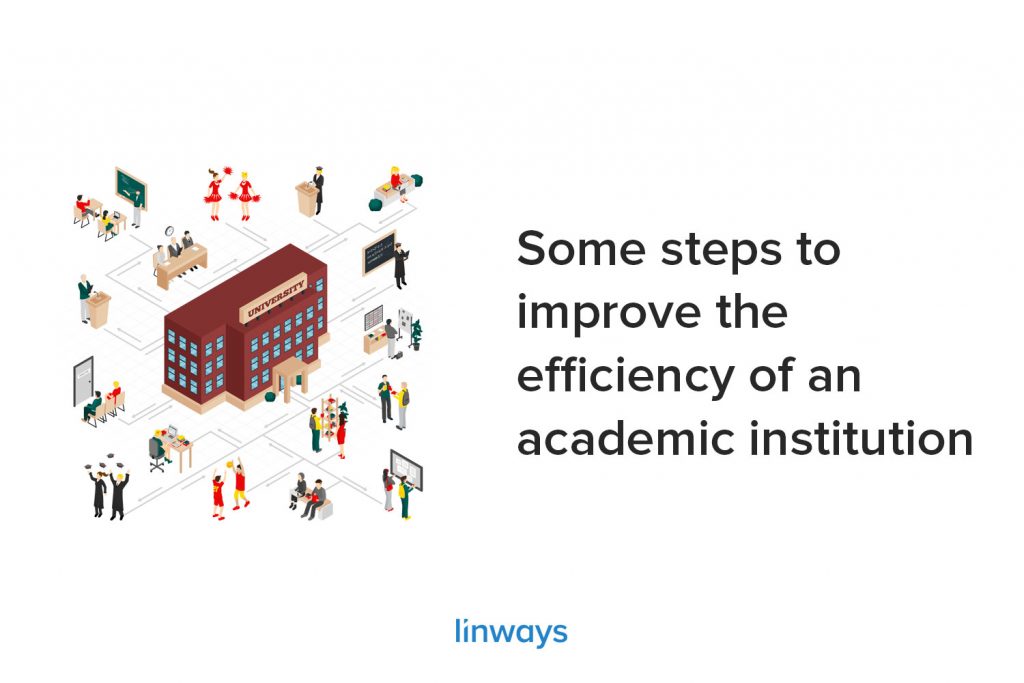 For those of you who have been following our blogs, a huge THANK YOU. You've been supporting us and inspiring us to move forward, and explore more topics related to education. Linways stands to improve the way the world is learning, and our blogs are all solely intended for that.

As far as that notion goes, academic management is a very complex and crucial element in improving education. There are countless elements to consider, from the admissions to the certification, from classroom to exam halls, from teachers to students.

So we are exploring some key elements of the management of an academic institution in this blog. But before we begin, let's identify and define the focal point of the discussion.

What is academic management

There are essentially two meanings for this. The initial is, of course, what the name suggests. The act or process of handling the workflows of an educational environment, particularly inside an institution.

The second meaning, however, is more suggestive and colloquial. It refers to a particular group of individuals, a trust or a board of directors, that practically manage each aspect of an academic institution. These might include the director, the principal, chairman, or other stakeholders.

We have previously written about the former definition with reference to Linways academic management system:
So we are trying to look more deeply into the latter in this blog.

As far as the word management goes, it could also be interpreted as administration in our daily usage. Let's clear that out first.

Educational Management:

Educational management of an institution is primarily concerned with the objectives, targets and goals laid down by the 'Board of Directors' or the 'Board of Governors'.
They are focused on the achievement of results and the branding of the institution.
Educational Administration:

Educational administration is an agency which lays down the aims, policies and guidelines of the institution for it's day-to-day working. These might not always coincide with the goals of the management.
For setting the daily workflow, educational administration is concerned with rules and regulations of education.
Now let's move on to some very efficient steps that you, as part of an academic management, could adopt to improve the efficiency in your educational institution.

Research for development
Research holds high value in the workflow of an educational institution. This doesn't mean just the academic research, which your faculty should follow, but analysing the industry trends, student prospects, market, etc. too. You need to encourage your faculty to pursue academic research, as they are both important for regulatory purposes and for improving the teaching quality.
You can also work out what students and parents perceive as the strengths and weaknesses of your institution. Based on these insights, you can refine the brand message to differentiate yourself from your competitors. Being flawless & reputable in every domain might be impossible. So the best thing you can do is to channel your unique qualities into niche areas through extensive research and utilize that insightful data that you collect.
Offer voice to you students
Reputation of your institution depends on student satisfaction and performance. Conducting surveys is a great way to figure out what your students have to say. If you could give them a chance, and a platform, your students could have some insightful comments that you could use to improve the efficiency in teaching-learning, and daily workflow. This way, you not only adhere to the regulatory norms of grievance redressal, but also collect what the IT sector calls 'valuable user data' that gives you a detailed overview on how effective your strategies are.
Your institution is a brand. It should have a brand strategy
Make no mistake, despite being in the education industry, there's always competition. There's branding, and marketing, and there's business that keeps the whole thing afloat. So your institution is also a brand. Something that parents and students should feel welcome to adopt. So adopt a brand strategy that resonates with the ideals and values of your institution, and put it out there for the world to see.
Prioritise student experience and academic offerings. This includes updating the course curriculum to reflect the shifts of the industry and dynamics in higher education. It is worth considering the growing impact of accreditation. Quality assurance and certification has led to new conditions based on which the students choose their education. So branding does not necessarily have to be confined to newspaper ads or billboards. Your institution quality can speak for itself in terms of campus placements and quality assurance certificates, and that is a great way to improve the brand.
Engagement
Your brand strategy should also include improving the engagement levels of students and faculty. In higher education, creating a sense of belonging is vital for students. Do not neglect the necessity that is developing relationships with staff and administrators – not just with their peers.
A study from Stanford University suggests that "satisfaction with the undergraduate experience is the single most essential precondition. Those who are not satisfied are, without exception, nondonors". Students willing to donate would drive more results, both in terms of academia and hospitable environment.
It's simple. Students go through higher education as a platform to improve on particular skills and, essentially, boost their employer reputation. They need the assurance that the destination they chose can ready them for this. Your academic reputation will be a determining factor in their decision making.
So that's some steps that we wanted to share with you about improving efficiency in academic institution. Now that we have shared our view, we'd love to hear what you want to say about the same. Please share your thoughts in the comments, and we will be back with more interesting topics on education, academics, edtech, and management.

And before we end this, Linways Academic Management System, is a platform that helps institutions to simplify their daily workflows, and improve quality with our intuitive and user-friendly interface. Accreditation, admission, academics, grievance redressal, surveys, assessments, and many more key elements of institution management can be simplified and made efficient with Linways. If you have 4 minutes to spare, we'd like to take you through the platform with a video below. It's takes so little of your time, but it'd mean a great deal for us.
And finally, if you like to have the latest updates on academics, learning theories, regulation news like the AICTE or UGC, accreditation like the NBA or NAAC, subscribe to our blog by clicking the link below.
---
Also published on Medium.