The first step- Measuring efficiency.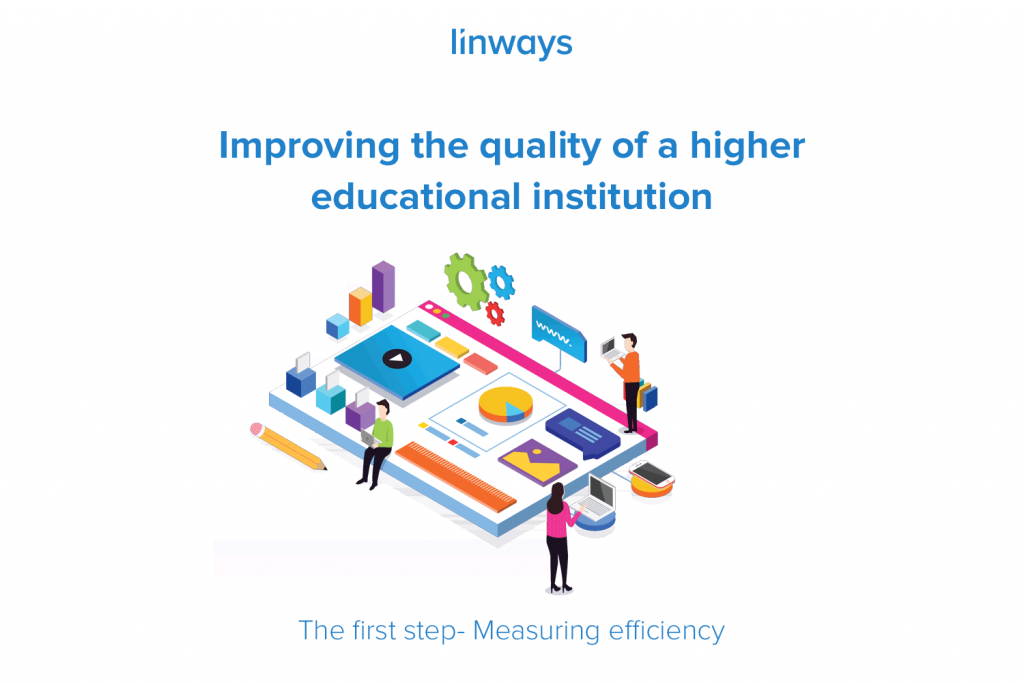 The shifting student demographics
The student demographics have been vastly changed over the last few decades. It seems like the priorities and requirements of students and parents are not the same as it was a couple of years ago. This points to an even greater shift that's being unfolded in the education industry.

Based on upcoming notions about this shifting learning environments, colleges and universities need to focus on what the student needs, and provide a learning experience they need. This does not pertain to just courses offered though. Student engagement, institutional quality benchmarks, worthy certification with respect to the industry, placements, employment opportunities etc. all plays a relevant role in the decision making process when a student chooses a college.

To pick up from our previous blog, we are exploring more into the workings of a higher educational institution and it's efficiency improvement through executable, measurable, strategies.

Quality assurance
Before we delve deeper into the efficiency, let's revisit the quality assurance benchmarks for a quick reminder. This is to have an end goal in sight. Until we prioritise our goals, it's hard to measure performance and results.

So quality assurance is a multi-layered paradigm. In one end, there's this result-driven aspect that showcases institution's ability to consistently produce rank holders. Placement opportunities connected with notable results often made a reputable institution. That is at least till these recent times.

But the times have certainly changed. Now we have this whole new meaning of quality assurance in education on the other end that points to student-centric, outcome-based education. This has become the base foundation for our quality benchmarks like the NBA and the NAAC. This new kind of quality measurement has been synonymous with the employability of the students, the research capabilities of both students and teachers, and the institution's commitment to assure quality in education as in what steps have been taken to achieve learning outcomes.

Key Performance Indicators (KPIs)
The KPIs are a popular term in the management. It refers to some measurable values that demonstrate how effectively an organisation is achieving their goals or objectives. KPIs are used to evaluate and assess the efficiency, performance, and results. So in this blog, we are going to define some KPIs for efficiently managing higher educational institutions. These KPIs will help you measure improvement, and thus, assure quality based on outcomes and desired goals.

Student management.

Here are some key indicators in this area:
Application rate: How many students apply for a seat.
Enrollment rate: How many students are actually selected.
Dropout rate: How many students dropped out without completing the course.
Retention rate: How many students stayed as opposed to dropouts.
Here are some additional KPIs to have a better insight into the performance of student management:

Student-faculty ratio: As the name suggests, the student-faculty ratio is the number of students with respect to the number of faculty. The closer that ratio is to 1:1, the better. It indicative of the focus and attention students receive from the faculty, and lower ratio means more interactive and adaptive teaching-learning inside the classroom.

Faculty-staff ratio: This is purely an administrative angle, and does not necessarily indicate that things are out of place. An institution could be using some managing platform like Linways to enhance their workflows and improve efficiency. So the faculty-staff ratio could be higher, and still be working very efficiently.
Applications vs. enrollment: Also known as the acceptance rate. It refers to how many applicants got through with admission and became students of the institution. This helps to keep statistics on the evolution of the student demographics and to figure out where your institution need to focus more in order to improve performance.
Management of Faculty.

As for students, there are specific KPIs to assess the performance of faculty. The most common indicators to track this are:
Number of classes assigned for teacher.
Number of teaching hours assigned for teacher.
Number of teachers per department.
The following additional indicators help us to measure faculty management metrics in greater detail:

Percentage of faculty with advanced studies: The number of teachers who have post-graduate, doctoral certifications. It is essential for the regulatory statistics like the NBA and the NAAC to provide faculty research data. This also helps to boost the reputation of the educational institution.

Annual training: The training conducted for teachers in teaching techniques, updates on the use of technology, learning theories, industry updates etc. This metric gives an idea of the quality of education quality provided by the institution.

Faculty and staff attendance rate: The lower this indicator is, the more negative impact on the organization. It affects schedules, planning, allocation of resources and even the recruitment and hiring strategy of substitute teachers and temporary workers.

Faculty and staff retention rate: This tracks the number of personnel that stays at the institution between two comparable periods. The higher the percentage, the better the relationship between students and their environment. Also, it positively impacts the levels of operational costs, given that the institution avoids needing to hire and train new people on a regular basis.

Management of Schedules and Infrastructure

Schedules and physical space planning is usually carried out by a specific area within the institution, and is centralized (main office) or decentralized (faculties or departments). Here the most common KPIs are:

Classroom-student ratio: As to the student strength of a classroom with respect to standard norms
Classroom resources: Equipments and other necessary resources for a classroom to aid teaching learning.
Total classrooms and schedules per subject and study program: the number of classrooms, and thereby student strength per department.
Other KPIs to provide more information on this area are:

Adequate infrastructure & necessary teaching equipment: The data point on the necessary lab equipment, library, leisure/sports area, etc. to provide additional enhancements in learning management and boost morale.

Percentage of technology use: This indicator demonstrates the availability of technological tools in teaching to communicate and to carry out activities and projects in class.

Infrastructure use rate: This shows the use of each space of the institution for teaching classes (from rooms to auditoriums and open spaces) and more. It is measured by comparing each place with the number of students per section, or the number of hours assigned daily.

Financial Management

The most common KPIs to track an institution's financial management are:
Income versus expenditure
Operational expenses
Percentage of budget compliance by area
Annual budget surplus/deficit
Rate of scholarships and state subsidies
The following key performance indicator also provides a greater understanding of financial:

Cost per student/faculty: Shows the institution's costs to educate each student or employ each faculty. This ratio includes infrastructure expenses, maintenance, administrative salaries, books and teaching resources, etc.

---
As we mentioned, this is part of a broader series about managing higher educational institutions. We will be back with more informational resources related to education, technology, teaching-learning, accreditation, and more. So be sure to subscribe to get our latest updates.

---
Also published on Medium.