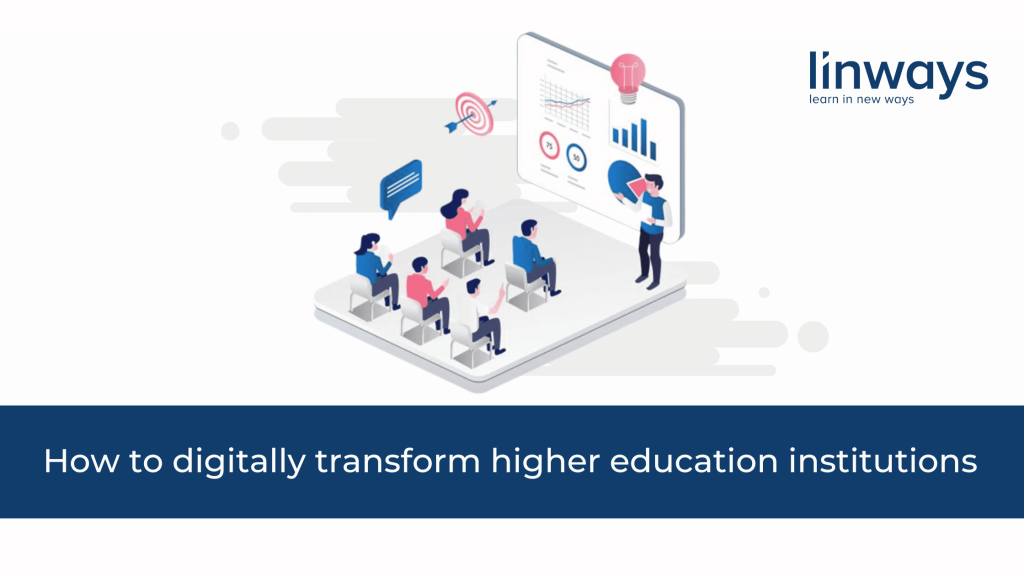 Based on our a decade's worth of experience in the field of digital transformation in higher education, there is no one answer to this question, as it will vary depending on the specific goals and needs of the higher education institution.
But there is one thing that should be the top priority, every decision must help students succeed. This, in turn, fuels a flourishing school brand and builds momentum for the school's mission.
Following these steps will help higher education institutions achieve successful digital transformation: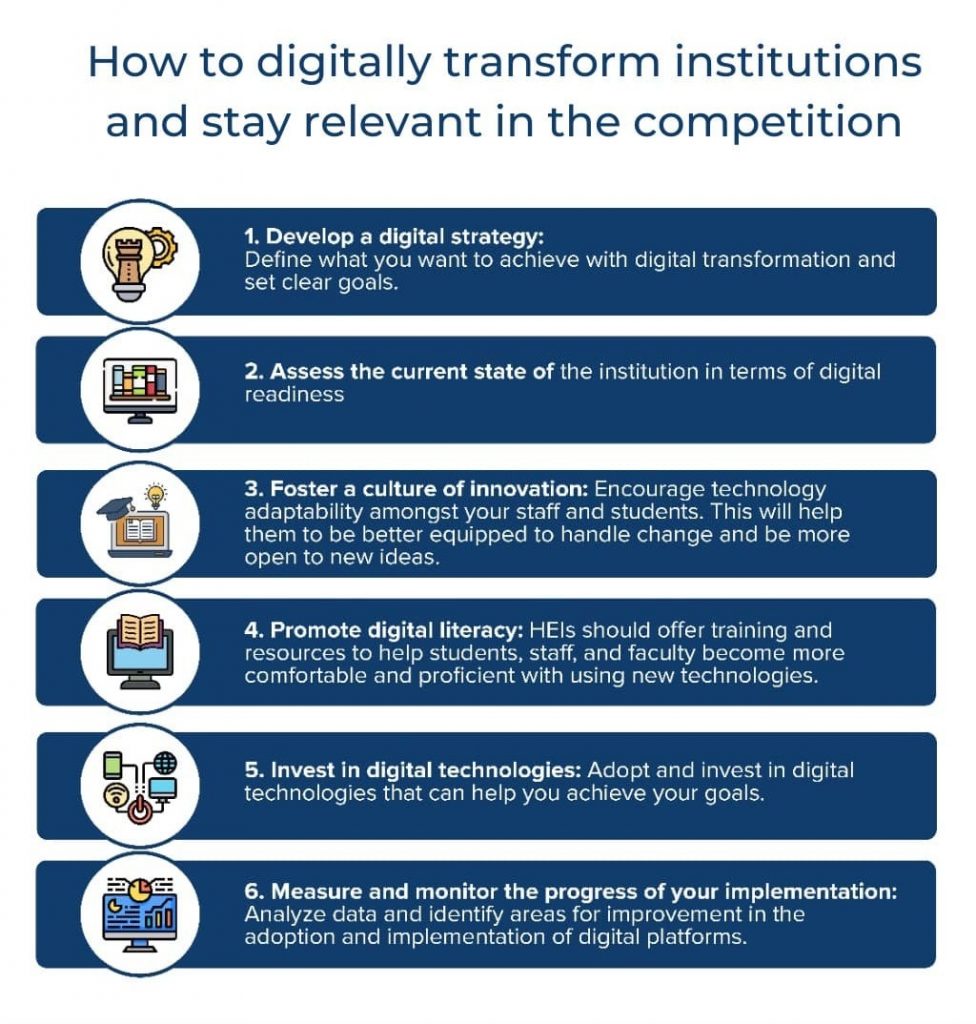 In a nutshell, The first step is to assess the needs of the institution and the students. After that, a plan can be created to digitize the institution. This can include creating digital infrastructure, digitizing curriculum and teaching methods, and using data to drive decision-making.
1. The first step in digital transformation is to determine its goals and objectives.
There could be multiple goals and objectives for digital transformation in HEIs. A few most commonly observed are:
Enhancing the quality of education:
Utilizing data to personalize learning can help students receive more engaging and interactive content.
Improving student outcomes:
This includes increasing retention rates, and improving graduation rates, by providing constant communication, weak student identification, etc. In addition to that, helping students to be more successful in their careers by tracking POs & PEOs.
Reducing the need for physical infrastructure, Streamlining administrative processes, and increasing operational efficiency.
By providing more flexible and affordable learning options, breaking down the constraints of physical resources, and fostering hybrid learning.
To enhance the institutional reputation and visibility.
By utilizing technology, organizations become more efficient and responsive to stakeholders' needs, improve operational efficiency, and create a culture of excellence among staff, faculty, and administrators.
Leverage Technology to improve timely communication.
Connect with students and teachers regularly using technology to create a communication plan that includes regular updates and reminders. Implement a centralized communication platform to improve coordination among different departments.
Improve teachers' productivity.
By Automating routine tasks, teachers can focus on more important tasks. Routine tasks include planning and organizing lessons, assessing and providing feedback on student's work, and creating reports.
2. Assess the current state of the institution in terms of digital readiness.
Conduct a survey of the institution's faculty and staff to gauge their understanding of and comfort level with digital technologies.
Assess the institution's current infrastructure and capabilities in terms of digital technologies.
Review the institution's current curriculum and instructional materials to determine the extent to which they are utilizing digital technologies.
Identify any gaps or areas in need of improvement in the institution's digital readiness.
3. Foster a culture of innovation
Help your staff and students understand that intelligence is not fixed and that it can improve with effort and practice. This will create a more positive attitude towards learning new things and using new technology. Eg: Deriving a new learning model, and new assessment models.
4. Promote digital literacy
There are many ways to promote digital literacy in higher education institutions. One way is to provide training and support for faculty members on how to integrate technology into their teaching. Additionally, institutions can encourage the use of digital resources and technologies in all areas of the institution, including administrative functions.
5. Invest in digital technologies
Work with a trusted partner who can help advise on and implement the best digital technologies for the institution. One way is to invest in software that will help manage and automate administrative tasks and support the implementation of best practices. This can include things like student information systems, learning management systems, curriculum management, admission management systems, online tests and assessments, fee management systems, document management, and accreditation management.
6. Measure and monitor the progress of your implementation
The college's IT office can help measure and monitor the progress of technology implementation on campus. They can provide data on how many students and faculty are using the technology, how often it is used, and what impact it is having on teaching and learning. They can also help identify areas where the technology is not being used as intended and make recommendations for improvement. Ask your technology partner to deliver usage statistics and data-driven dashboards with real-time data. 
Higher education institutions are faster to adopt technology today than ever before. But the driving force of the adoption was survival—not student success and improving teachers' productivity. "Tech for tech's sake" doesn't put the student experience at the center of the institution, and it isn't in alignment with any institution's overall goals and mission.
Colleges and universities need to adapt to new technologies, which could improve operations and student experience, and ensure their long-term viability. Use technology to your advantage – and use the ongoing disruption as your path to student success and stay relevant in the competition.
Previous article: The importance of digital transformation on campuses
Linways is on a mission to the digital transformation of campuses.
Linways is a team of engineers and educators who are passionate about making the digital transformation of campuses possible. We believe that campuses can be transformed by leveraging the power of data and technology. We are working to make this transformation a reality.
We work with colleges and universities to provide digital tools, services, and practices that help educators and students manage their time, money, and mental health.

---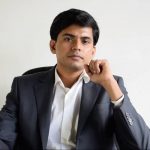 -Mr. Bastin Thomas, is the founder and CEO
 of Linways
---
Recently published Articles