Presented at the Discussion BarCamp hosted by Linways Technologies Pvt Ltd.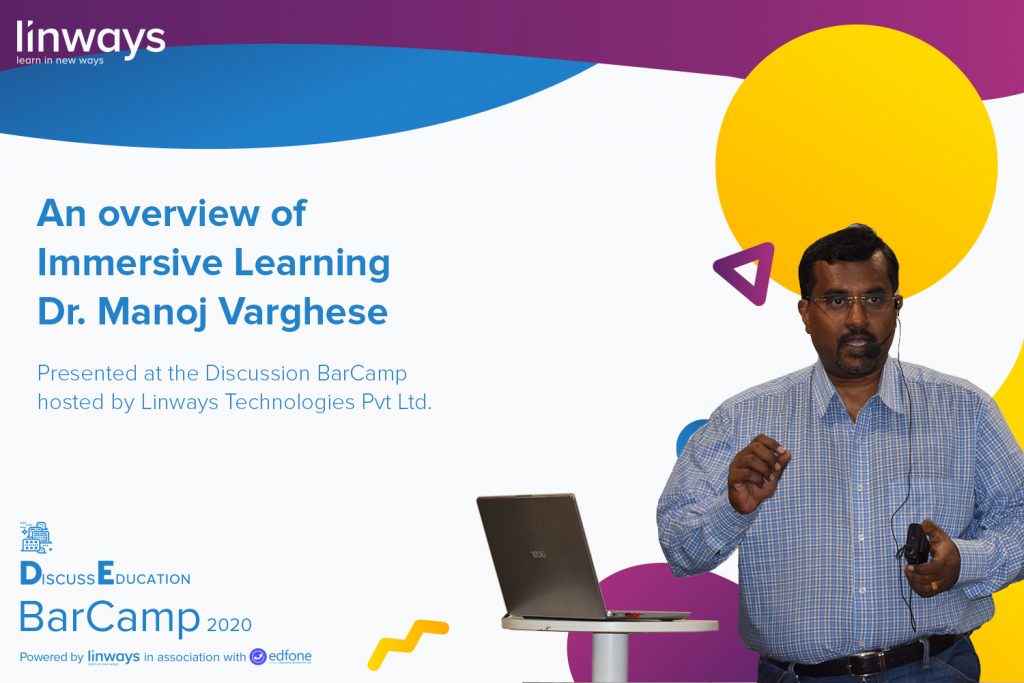 Discuss Education BarCamp by Linways witnessed the discussion on various topics that can bring diverse changes to the education system to improve the teaching and learning process.

Artificial Intelligence is a technology that emerged to make miracles in the industrial, medical, and information technology field. AI has also stepped to the field of education to make the learning process more realistic and exciting for the students through an environment which is known as Immersive Learning. Dr. Manoj Varghese, the Managing Partner of Milliard Reves Advisory, Former Director of XIME, former Director at Facebook India, Director, and Head of HR for Google, Japan, and the Asia Pacific, spoke to the audience of BarCamp about Immersive Learning.

He started the presentation with a brief and straightforward introduction on the topic:
In immersive learning, the learner has him in an environment created using technology to accelerate the learning process. It is the process of learning on steroids supported with a simulated or artificial environment.
It enables the learners to get immersed in the learning entirely and, in a way, feels like experiencing an actual learning environment."

In the traditional method of learning, we use primarily print, audio, and video, which uses only one or two senses for the learning process. But with the help of immersive learning, we are creating an environment that is more creating an experience that involves our sensation of vision, sound, and touch in a blended manner.

Dr. Manoj Varghese explained that the world wide web has moved beyond searching and discovering information, and has provided scalable solutions for immersive learning right from an early age. The explosive growth of the World Wide Web is now helping users to get relevant and personalized information in the form, when and where they need it. The Internet has made a lot of difference in the way students of the current era learn than the older generation. Students are now able to get the study resources they need in a short period with reliable information from the Internet. Online tools and experiences tremendously improve the quality of learning and help them chances to explore the application of various topics that they studied.

The next phase of discussion was the popularity that virtual reality is gaining in the field of education.
It has made lessons and concepts more accessible for students ranging from lower classes to higher technical levels. Virtual reality is also developing a great sense of enthusiasm in learners to dive deeper into concepts.
The learning process involves several steps that are cyclical for learning to be effective – conceptualization, experimenting, experiencing, and reflecting. The learner can have preferences about which of the steps they start with immersive learning provides a complete cycle of learning for more effective learning. All big technology companies like Apple, Amazon, Google, Microsoft, and Facebook have solutions that can be used for immersive learning in addition to developing some platforms of your own for educational institutions. Dr. Varghese explained some of the platforms provided by Google such as Google Augmented Reality and Virtually with a small example. He substantiated that example with a compelling case on a topic using Google expeditions. Google expeditions use augmented reality to do things like visiting popular tourist destinations through our mobile that can be a significant support to teachers when they are teaching. This example demonstrated to the audience how far virtual and augmented technology has progressed, and it's probably time that we expect them to impact how we teach and learn in a big way.

The involvement Students in Immersive Learning

With the advent of technology, the distribution and availability of educational resources have become more feasible. Learning can happen at any time as per the need of students. He also added that studies show that students are already preoccupied with immersive learning, and hence learning is no longer confined to classrooms. There is a significant increase in average video content that a student consumes, and with more and more 'digital natives' immersive learning is no longer a trend but a necessity.
Audience Responses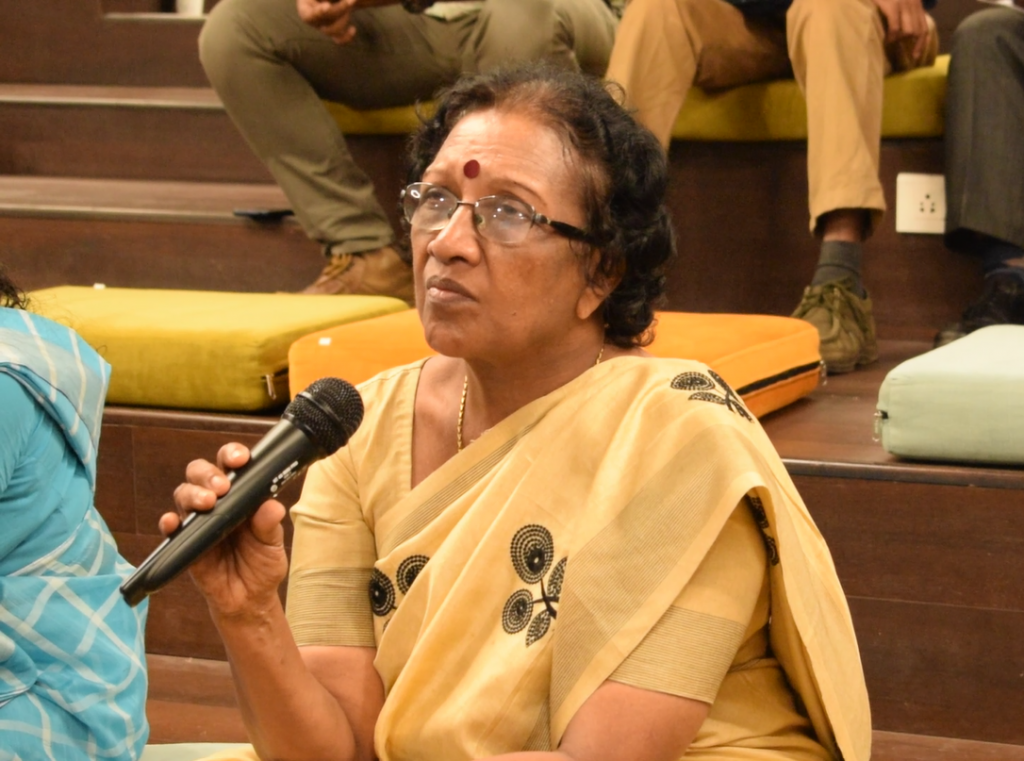 Dr. Fatima Mary Cross enquired about the minimum age at which the students can start immersive learning.
To this Manoj's response was that in counties like the United States the technology is now implemented from Kindergarten classes onwards.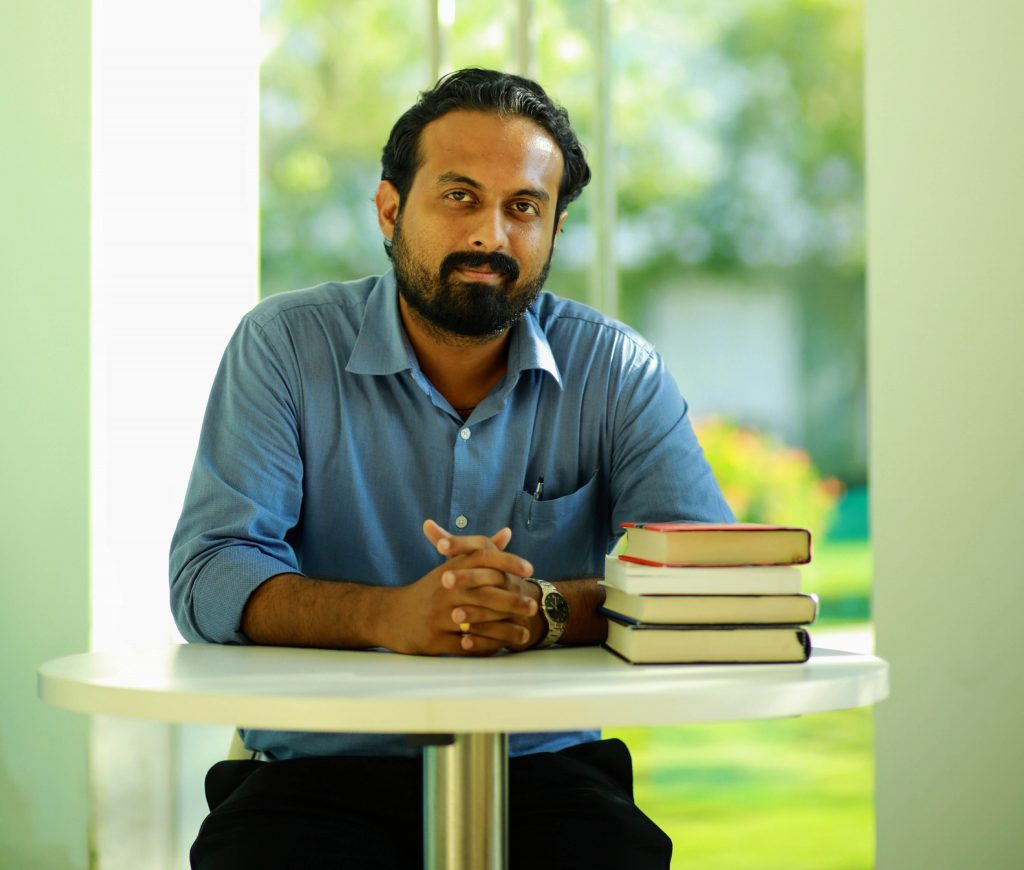 Then on hearing this, Dr. Nitish was interested in knowing the possibility of implementation of Immersive learning techniques in India on a large scale.
His answer to this question was really a welcoming one to all the educational enthusiasts who were present in the discussion. He said that Facebook and Google are already working on solutions to make immersive learning available for students across the globe. Also with the increase in content, it will gain popularity at a faster rate and will become affordable to everyone. Also as money spent on education is always an earning to thyself, people are always ready to spend money on education.
---
Also published on Medium.