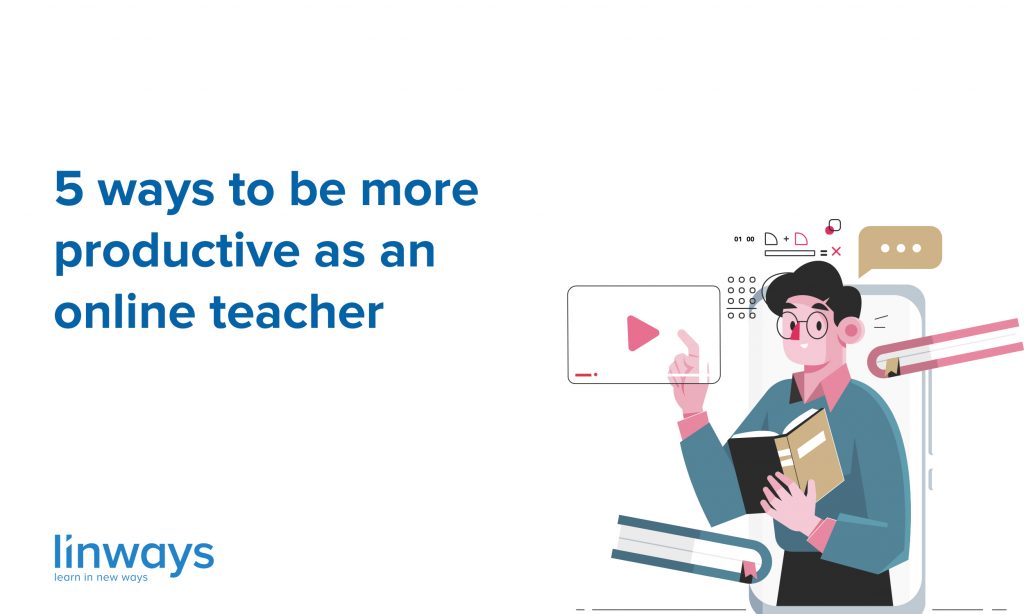 "Productivity" means "the rate at which products are created or important work is completed".

In the wake of the COVID19 pandemic, we are all forced to stay indoors and crucial education has suffered critical loos in terms of student-teacher interactions and classroom learning. But we saw technology stepping up to meek the task. We see teachers using tools like the google cloud, zoom, etc. to share lectures, and platforms like Linways LMS to manage entire teaching-learning and institutional activities online.

In the present scenario, we should support our teachers to adapt to this new online learning environment. It's very different from what we have experienced so far on campuses. The institution is in the living room, or inside a laptop. This changes the game.

We have previously published articles that help teachers to adapt to online teaching, and improve student engagement. You can refer to those if you want here.
How to ensure quality in your online classrooms
5 effective teaching techniques for online classrooms
So this time, we are discussing improving the efficiency and productivity of teachers. More precisely, a few simple, yet powerful hacks that make it so much easier for our teachers to ensure peak performance and focus-driven actions. Before we begin, there's something we need to clarify. Being productive is not the same as being busy. Those are two very different things. Being busy is about achieving goals, but being productive is about prioritizing. It's not about how much things you can accomplish in any given period of time, but whether or not you can do stuff that matters the most. In our case, it's not about taking a lot of live classes or recording lecturers, but communicating with the students and making sure that they are learning even if you are not physically there to teach them.

Now as that's settled, we'll head over to the topic at hand. What can you do to improve the efficiency and productivity as a teacher?

1. Plan, Plan, and Plan.
It's a golden rule for getting things right. The more you want to get better at something, the more you think about it. Planning is the number one way to make sure that you have the time and resources to get things done. If you're taking a live class, prepare with the video conferencing tool that you're going to use. Make sure that you're comfortable with it. Prepare for events like technical glitches.  If you're planning to take an online quiz, make sure you can take those results and use it in a way that helps you assess the student performance in the future. Having a platform like Linways comes in handy because it covers the whole academic spectrum from attendance to assessments and outcomes.
2. Outline your goals.
Let's face it. The world may get rid of COVID19, but online learning is here to stay. It's become the new normal, and as a teacher, it's important that you set your goals and expectations based on that. Think of what you want to achieve with a particular task. Think of what you can do to make it as efficient as possible. Is there some tool that you can use to make it easier? Is it absolutely necessary that you do this today itself? Is there anything that you should complete today before you do this? Prioritizing your goals is a very easy and simple step to improve your efficiency, but it's also very effective. If there is a platform like Linways LMS at your disposal, create a lesson plan early in the semester. This will help you keep track of your progress and prioritize as new tasks come along the way.

3. You're the teacher. You teach.
It's so easy in today's world to lose focus. When working inside an institution, there's bound to be some clerical tasks, non-teaching related activities, and out-of-the-class tasks that you need to do. But never forget to breathe life into your lessons. You are the teacher, first and foremost. Those students are your responsibility, and they depend on you for valuable lessons. So be the teacher you wish you had. Make the learning experience memorable. Affirming this will help you get through a lot during a busy workday. It will also help you keep the focus on the bigger picture.

4. Don't be afraid to explore new solutions.
Everything may not be obvious at the beginning. You may have to work for it. But remember, for every problem that you face, there are a million teachers out there facing the same problem. Chances are, your solutions are only a google search away. Check out edtech platforms, new tools, teaching mechanisms, learning theories. Expand your network and field of vision over the walls of your institution. You will better answer and make new connections this way. If you are having trouble managing your academics, check out platforms like Linways LMS, a comprehensive learning management system that helps your manage the entire institution, and complete teaching-learning activities with ease.

5. Work at home, but not all the time.
All of us who can work from home are doing it. Not every teacher has the opportunity but that doesn't make it any less relevant. Take time for yourself between classes and tasks. Spend time reflecting on your performance. Self-evaluation is always a great way to make sure that you don't repeat the same mistakes again. No matter how good you are at anything, doing something without a break may result in exhaustion and reduced productivity. So leave room for small breaks in your daily schedules.

So there you have it. 5 simple hacks to improve your productivity and efficiency as a teacher. Apart from these, using a complete learning management system like Linways LMS helps you manage every teaching-learning activity from admissions, attendance, online teaching, course-material distributions, and assessments. Check out this link to learn more about Linways LMS and how it helps you reduce the workload of teachers and save valuable time while improving the quality. 
---
Also published on Medium.