Think quality education instead of remote instruction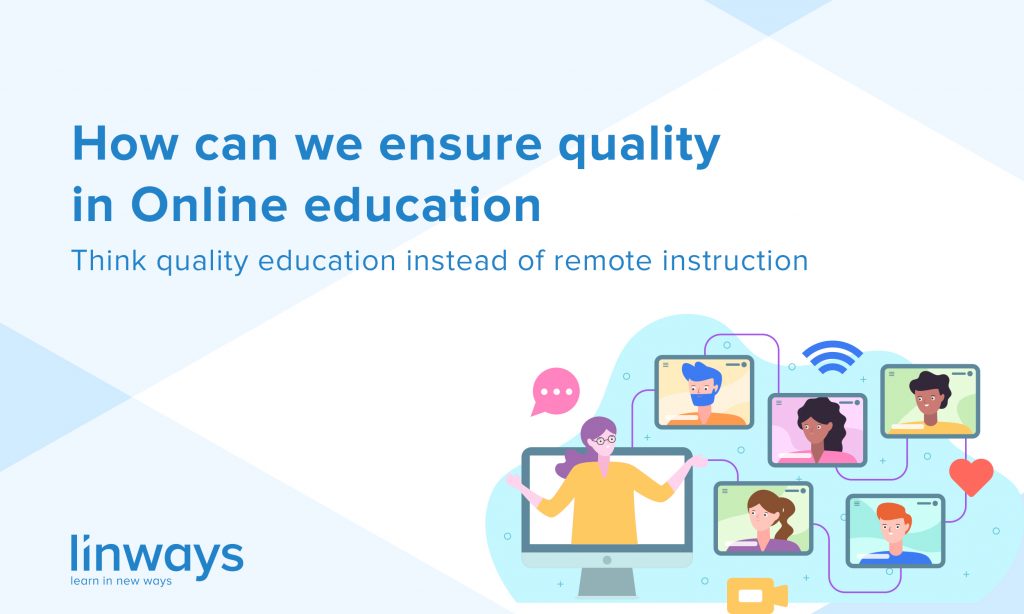 Before we begin, a quick word about Linways LMS. It is an online academic management solution for an educational institution that helps teachers and institutions to simplify their daily tasks and manage the academics online. It helps institutions to set up a complete virtual environment for managing learning and it saves a lot of time and energy for all. Check out more about Linways here or you can watch a short video of Linways in action here.
Alright, now to the topic at hand. Online education is everywhere. Especially after the COVID19, it has become the new normal in education, and institutions like colleges and schools are more reliant on online learning than ever. But oftentimes, they end up providing the education, and that's all. Not to say that our teachers have done a fantastic job in rising up to the occasion and delivering education even during the times of lockdown, but as we are past that stage, we have to think beyond now.
But quality in education is still a very crucial element no matter if it's online or offline. We have to ensure quality in teaching-learning, assessments, and the overall education experience. We have previously discussed the topic of ensuring quality in online classrooms. But considering the immense readership of that article, we have decided to follow up with a broader topic on ensuring quality in online education.

So what is quality in online learning? And why has this become a topic of such discussion? After all, most details including the curriculum, course materials, the teacher, and even the timetables have largely remained unchanged even though education is online. The core of the issue is in the methods adopted. The replacement of physical classes with video conferencing has been the dominant approach taken. Most of us now know that online sessions, even though very useful, only provide a feeble reflection of the real classroom experience on their own.

Ensuring quality in online education is not primarily a question of IT support but of academic strategy and educational design. 

We have seen online education slowly gaining traction across the world for decades now. We also have the necessary infrastructure and the know-how to implement it. But the question remains. Can we really transform the entire education system online at such a fast pace at scale?

Online education is no one-man ordeal. Just like how it works in a typical institution, you can still collaborate with your peers to make the best out of online education. Teachers can share their wisdom, strategies that work, techniques that are effective, etc. There might also be non-teaching staff in your circle who are wizards who are good at setting up the technology infrastructure reaching out to those people who can help you get through a lot of the fuzz. Joining forces with them means you have their support from behind the scenes.

As we mentioned before, we already have the technology for online learning. It's not about whether we can take classes online or not but how. The keyword in online education is its latter half. Education should still be about learning and students. No matter how you provide, it should strive to reach the perfection a student experiences on campus with their peers, clubs, societies, extracurricular activities, and social lives. So while building a strategy for online education in your institution, place the students' experience at the center, and then build backward. Because you can have a tool built for most use cases. But there are no tools or platforms that can replace the experience you provide.
Instructional design is really important. However, we have already written extensively about finding the right strategy for online classrooms, building student engagement, and teaching techniques. So you might as well check those out for detailed info.
One particular strategy that we've found to be useful to maintain the transition and still maintain control is to stabilize – enhance – evaluate. Based on our priorities, the first thing should obviously be to ensure students get an education. Once that primary goal is achieved, then move on to enhance the experience using pedagogy principles, engagement activities, and learning principles. As you move on improving the experience, evaluate your results from every step, and revise your plan. This means even if there are roadblocks, the elementary stuff goes on. Learning would still happen. And we can also have more control over the sudden online shift in education.

Again, having a comprehensive platform like Linways LMS would help a great deal for institutions and teachers to manage online education. It is specifically built to support education stakeholders to maximize efficiency and minimize the workload. Entire institutions can be easily managed through Linways without losing the workflows or daily schedules. Every academic aspect from admissions and attendance till assessments and report generation can be done with Linways. You can see Linways in action is a short video here, or let us take you through a guided tour of the platform for which you can sign up here. If you think this article was helpful, please consider signing up for more education and technology-related content.