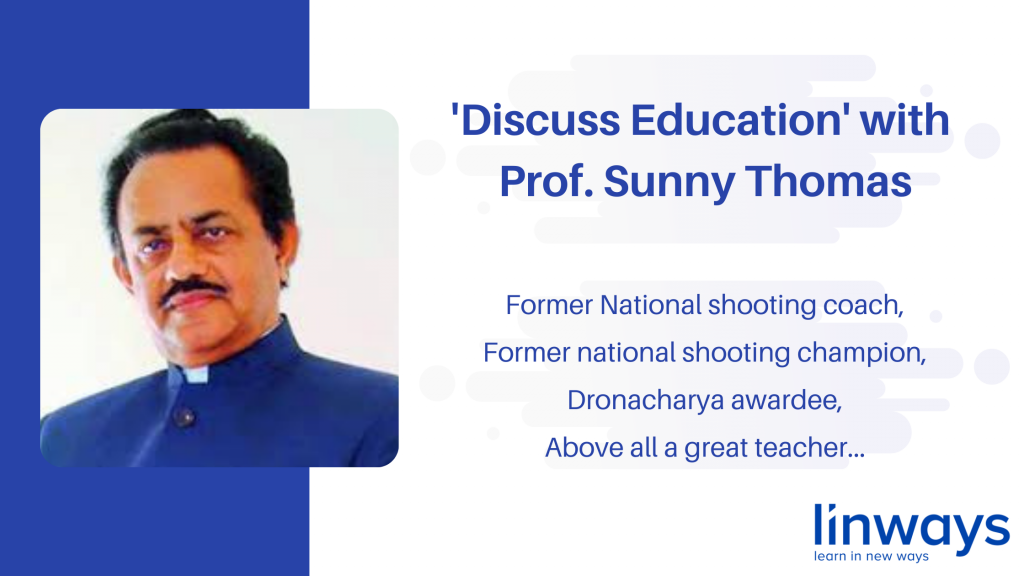 In our previous blog, we came up with few lessons teachers could learn from sports coaches. This time, we are proud to bring for you one of India's most successful and influential coaches, Sri. Sunny Thomas sir in Discuss Education powered by Linways.

Prof. Sunny Thomas is one of the sole reasons for India's global success in shooting. He served as the coach of the national shooting team for a period of 19 years from 1993 to 2012. India won hundreds of medals from various tournaments during his stint. History was made when India won four Olympic medals in three consecutive Olympics, out of which was India's first Olympics gold medal won by Mr. Abhinav Bindra.
Prof. Thomas was awarded the Dronacharya Award in 2001 for his outstanding performance as the national coach and his contributions for the nation.

During his days as a successful shooter, Prof. Thomas won 5 medals that included two gold medals in his first appearance at the Kerala state championship. Thereafter he held the state champion title for 5 years. He also became the national champion in the Rifle 3 position open sight event in Chennai in 1976.

Before starting his career as a full time shooting coach, he was a professor of English language in St. Stephen's college, Uzhavoor of Kottayam district, Kerala. The sports coach turned teacher has seen and nurtured many students in his lifetime. Let us Discuss Education with the man himself about the influence of sports in education, what teachers should learn from coaches, and more.


1. What is the influence of sports on academics? How can we effectively embed both in the curriculum?

Teenagers have a lot of energy in them. But sometimes they are forced to suppress their extra energy because of so many restrictions. Whatever they do, they are asked not to do that which forces them to suppress their energy. There is a saying if intense feelings are not given an outlet, it may end in a catastrophe. If not guided properly teenagers may end up in the trap of drug abuse, alcoholism, smoking and other atrocities and finally lose their track in life. So there should be a platform for the teenagers to release their energy.

Sports is definitely the best platform for the teenagers to release their energy. It can be the diversion they need to stay on track. Sports should be given more importance and made compulsory in the curriculum. Physical education periods must not be compromised and all the students must be encouraged and compelled to take part in sports and games. This will inculcate discipline in the children.

Earlier, importance was given only to academics and getting more marks was the ultimate concern. Today the scenario is different. Parents are also encouraging physical education for their children. Equal importance must be given to sports and academics without having to sacrifice either. Physical education must be made a compulsory period and not just leisure time. Attendance and marks should also be made strict for sports sessions. This way we can embed both sports and academics in the curriculum.



2. Sir, you are both an academician and a sports coach. What are the similarities and differences of a regular teacher and a sports coach?

As a teacher, you are trying to reform the whole class. Teachers teach and develop the students as a whole class. So the students may not get proper individual attention. But in sports care and attention is given individually. You get more chances to know the good qualities and the bad qualities of an athlete. This will help you to work on them and improve the quality of their performance. Individual attention to the students is the main difference between regular teaching and sports coaching.

In a class of 40, it will be impossible for the teacher to provide individual attention to each of them unless he/she knows them personally. But in sports it is important to know and understand each students' background, from where they got here, what facilities they have received, etc..

Individual attention is important in both teaching and coaching. When you know the student or athlete personally you can identify their weakness and help them overcome it while encouraging to develop their strengths. This should be 'made' the common factor in teaching and coaching.


3. The ultimate goal of any education is the building of character. What is the impact of sports on character development?

I already explained the importance of sports to help the teenagers to express their extra energy. So this is more like advice to the teachers or sports coaches. Moulding the character of the student must be done very carefully without their knowledge. Your own personality or character must be the greatest example to the students. The greatness of the degree or achievements alone does not make you a great teacher. You must come down to the level of a student to bring them up. By being the best example for the students you can change them and develop their character without their knowledge.


4. Have being a good sportsman ever helped you in being a good teacher? And have being a good teacher helped you in being a good sportsman?

Sportsman spirit is needed in both. To be a good teacher you also need to have a sportsman spirit and of course to be a good sports coach it is more important. You must learn to approach the problems of the students in a calm and a sportive manner. This approach must be the same for both being a teacher and a sports coach. Discipline is the main factor. To make people disciplined is not really a tough job, but it is really important to keep up their quality. God has created each of us with different qualities. Some are good at sports while some are good at academics. In sports you can make an athlete well disciplined but their other qualities may not be developed. So as a coach, you have to polish them keeping in mind their other qualities too. That should be the way of approach.

In a classroom, ensuring discipline is different. It is more of giving instructions and there is a lack of individual attention. But in the field of sports each athlete can be given individual attention.

This approach I learned from sports has definitely helped me in being a good teacher.

5. What advice or lesson would you give to the teachers from your experience as a sports coach?

I am worried to say that some teachers tend to support academics alone and discourage sports. That should be totally changed. God has created each of us with different skills, interests and qualities. We must appreciate their skills and talents. Studying alone cannot make you a successful person. A good student may not always be successful in life. It is also seen that many of the backbencher students come to the front row in life. Studying is important but it alone will not make any difference in one's life. My advice to the teachers as a sports coach is to understand the individual qualities of students and train them in ways they can win the game of life.


6. As a national coach, how do you bring out the best in an athlete?

The first step is to generate confidence in the students.Gain their trust by assuring them that you are there for them and with them. There should be clarity and accountability in your behaviour. If you say something to the athletes, you have to keep up to that. For example, while we conduct a selection process for the team, we tell the athletes if they achieve what we demand, they will get selected to the team. There will be pressure from a lot of other external factors to conduct more trials or select specific persons. But once you declare the trial and the parameters for selection, there should not be turning back. Accountability and transparency must be there in your behaviour.

I have faced a lot of challenges when I took charge as the national coach in 1993 because till that time they used to conduct so many trials to select athletes. This was to select their own people in the team. But that had to change. Accountability was needed. I had to fight against the Government, National Sports Authority of India, National Rifle Association of India and the Indian Olympic Association to bring that change and ensure accountability.

To bring out the best in an athlete, you have to generate confidence in them first. There should be clarity and accountability. To make a person disciplined is not difficult, but to bring out the good qualities in them, you have to reform them without their knowledge.


7. The brightest student of a class is not always the one who comes first. Likewise, the most skilled athlete may not be the one who actually wins the medal. What is the difference that can be seen in the medal winner apart from the most skilled athlete?

There is no one special quality that differs a medal winner from other skilled athletes. What matters is that there should be a fixed aim, confidence, hard work and sincerity in that work. These factors make all the difference.

All have got different talents of inborn blessings. We, as coaches, have to polish them. At the same time, we also have to direct them or teach them to live a practical life. Studying alone or sports alone cannot guarantee success in one's life. The right approach towards life is the key ingredient for success in life.

Be it in sports or academics, the right approach towards what you are doing determines your success.



Team Linways wholeheartedly thank you for making out time from your busy schedule for us sir. We will come up with more interviews from various educators of India in the coming weeks. 

Come be a part of the Discuss Education community. 
Facebook : https://www.facebook.com/groups/322492732459793/

Linkedin : https://www.linkedin.com/groups/13908564/ 

---
Also published on Medium.